MIDREX® — THE WORLD'S LEADING DRI PRODUCTION PROCESS
MIDREX is an innovative ironmaking process that has been specifically developed to produce direct – reduced iron from iron ores and natural gas/hydrogen.
MIDREX is a gas-based shaft furnace process that converts iron oxides – in the form of pellets or lump ore – into direct-reduced iron (DRI). MIDREX technology is highly customizable, which means it can be tailored to each customer's specific needs, and this is reflected in a wide variety of configurations. The performance of MIDREX plants typically exceeds nominal capacity ratings. This trend will continue with the implementation of new technologies such as process water degassing, hydrogen utilization, seal gas dry de-dusting system, slurry treatment, and the new and successful DRIpax process optimization system.
The MIDREX process is unsurpassed in the direct reduction industry in terms of production and the flexibility to meet the constantly evolving requirements of steelmakers and ore-based metallics providers. Adjustable product quality and the ability to produce various forms of iron, supported by some of the best production records industry-wide, make MIDREX plants the most profitable DRI plants in the world. In addition, thanks to the possibility for a flexible use of up to 100% hydrogen, the MIDREX process has the potential to become one of the cornerstones of the global strategy to decarbonize steelmaking.
As a licensee of MIDREX technology, Primetals Technologies has already built several MIDREX DRI plants and is able to deliver the full range of packages up to turnkey solutions. Around one third of all MIDREX plants worldwide have been built with the significant involvement (e.g. consortium leadership) of Primetals Technologies.

Special features
The MIDREX process is synonymous with high performance and reliability and is able to handle the full spectrum of requirements – from 500,000 tons per year up to 2.5 million tons per year and higher. The shaft furnace based MIDREX process represents an outstanding investment because it provides such an efficient way to reduce iron oxide while maintaining the highest levels of operational flexibility.

Midrex can
Derive reducing gas from the energy source most readily available and for a competitive price
Efficiently reduce local iron oxide pellets and ores of varying quality either separately or in differing combinations
Discharge DRI either cold or hot and in any combination simultaneously to produce cold DRI (CDRI), hot briquetted iron (HBI), and hot DRI (HDRI)
Operate with 100% natural gas, 100% hydrogen, or any mixtures of the two
Upgrade packages
Process water degasser
Slurry treatment by chamber filter press
Product quality conservation system
Waste heat recovery system
Bottom seal gas dry dedusting system
Want to know more? Go to Integrated Plants & Solutions
DRIPAX — PROCESS OPTIMIZATION FOR MIDREX DR PLANTS
The DR Plant Process Optimization System is designed to assist operators and process engineers to achieve specific targets in MIDREX DR plant operation. Sophisticated process models as well as a rule-based expert system, support plant operators to optimize process parameters at an early stage. The package can be easily integrated into either new or existing MIDREX DR plants.
Benefits
Significant benefits are achieved thanks to a combination of process model and expert system:
Stabilized product quality
Smooth plant operation due to small and frequent control actions
Standardized control philosophy and shift independent plant operation
Early detection of undesired process conditions
Reduced energy demand due to stabilized process conditions
Longer lifetime of reformer catalyst
​​​​​​​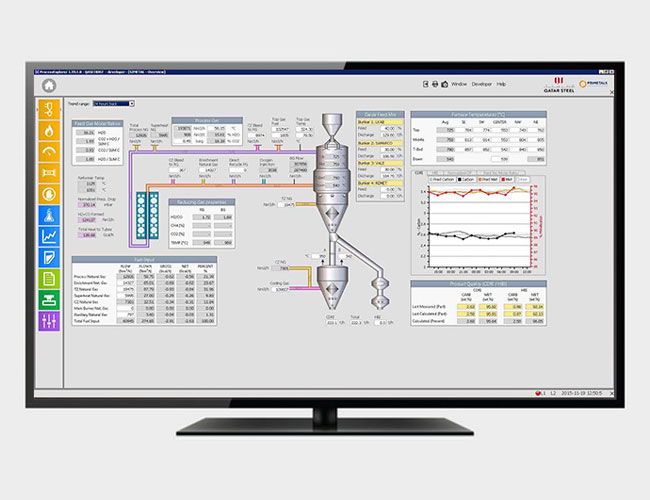 Fig.1- DR System Control

Based on a regular evaluation of the actual process conditions, the DR plant expert system generates diagnoses and corrective actions so that undesired process conditions can be avoided or remedied. Setpoints are calculated in order to maintain process stability and best-practice plant operation. Specific corrective actions can be switched to closed-loop mode so that setpoints are sent directly to the process control system.
The system comprises three highly accurate prediction models: The product metallization prediction model, discharge temperature and product carbon prediction model. When the material leaves the reduction zone, the metallization as well as the carbon content of the product are determined. However, it takes several more hours before plant operators receive this information from the laboratory. The model indicates these parameters by cyclically calculating the predicted product metallization and carbon content based on process data and raw material quality parameters instantly. This enables plant operators to immediately adjust process parameters based on the metallization and carbon forecast and therefore achieve stable product quality.
Technological model calculations are another source of process information. The MIDREX superdata model is fully integrated into the DR Plant Process Optimization System. The model runs automatically on a regular basis and performs technical calculations using online measurements, feed materials, and product analyses.
ECO Solutions for Midrex — Saving resources, creating value
Please follow the corresponding links to learn more about our competences.
Gas Cleaning
By-Product Recycling
ECO Consulting
Fig.1- MERIM plant for Midrex
TECHNOLOGY AND MODERNIZATION PACKAGES

Get striking results with incremental investments
Reference Story: The biggest overseas investment of ArcelorMittal Texas HBI (formerly voestalpine Texas), Corpus Christi, Texas, U.S.A.