4TH ESTAD | JUNE 24–28, 2019 - CONGRESS CENTRE DÜSSELDORF, GERMANY
JOIN US — AT THE 4TH ESTAD IN DÜSSELDORF | European Steel Technology and Application Days
You are invited to join us at the ESTAD conference! The ESTAD is a fantastic opportunity to get in touch with pioneering ideas for the steel industry and learn about the state of the art in metallurgical process technologies for iron and steel production, steel materials, and steel applications. The conference program is filled with up-to-date presentations and discussions on the most recent developments in
Ironmaking
Steelmaking
Rolling and Forging
Steel materials and their application, additive manufacturing, surface technologies
Environmental and energy aspects
Join us in Düsseldorf – and discover the comprehensive technology, product, and service portfolio of Primetals
Technologies.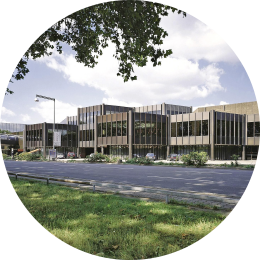 Industry 4.0 in the steel industry | Solutions for a Changing Industry
June 25 - 12:10, Room 2
Where is the metals industry heading? What should steel producers be doing to remain competitive? How can plants operate more efficiently, and what impact will trends such as digitalization have? This keynote will discuss some of the most pressing issues that we all—as players in the global metals business—are currently facing as we strive to shape our future. The needs of metals producers and their strategies for remaining competitive include aspects of raw material flexibility, dynamic production, the development of new steel grades, and the use of advanced production planning and scheduling algorithms. Businesses will have to operate with increased energy efficiency, strive to move up the steel value chain, and will need to embrace the kind of digitalization that will ultimately lead to fully automated plants. These aspects and trends, as we will illustrate, are diverse, but have one thing in common: they will define the solutions required to tackle the challenges facing tomorrow's steel industry. In many areas, sweeping changes will have to be made in order to survive and thrive, and not all of them will be easily implemented. Joint efforts, effective and reliable partnerships combined with an openness to technological innovation, will take steel production into a successful, eco-friendly, and altogether bright future.
Speaker
Aashish Gupta
Advanced Systems for Future Steel Grade Development
June 25 - 16:50, Room 01
The world steel market has evolved from a supplier-driven to a customer-driven one. Customers are becoming increasingly demanding, and margins are becoming tighter. This challenge is being addressed through increasing levels of digitalization and a more service-orientated customer focus. In parallel, the delivery of higher quality products, introduction of new steel grades, and further customization of high-end products for niche markets are of prime importance in terms of maintaining or increasing market share. Operating successfully in this challenging business environment is heavily reliant upon solid research and development. The development cycle time to market for new products needs to be minimized, but increasing pressure on development budgets requires even more efficient and effective R&D work. Addressing these challenges in terms of the operational practice is achieved through a combination of physical simulation, numerical simulation, and digitalization, all of which are driven by metallurgical know-how as a complete system. This combination provides increased understanding as the basis for efficient development and production of new steel grades. Increasingly, the role of the plant supplier is to develop and provide solutions to support steel producers in achieving these objectives for fast and efficient process development, including mechatronic systems, metallurgical know-how, and simulation technologies. This paper will discuss the structure and requirements for the aforementioned integrated system approach and the current technologies to deliver it. The benefits of a digitalized product development cycle encompassing the strategies of Industry 4.0 that are intrinsic to customers' operations in terms of efficiencies in development of new, higher value products, and in the use of metallurgical know-how, will also be presented.
Speaker
Axel Rimnac
Co-Authors
Wolfgang Hackl, Primetals Technologies
Nicholas John Champion, Primetals Technologies
Thomas Pfatschbacher, Primetals Technologies
Digital Twin of an Integrated Steel Plant in m.simtop – Strategic Operations Planning and Cost Optimization in the Digitalization Era
June 25 - 14:40, Room 01
Iron and steel making requires a wide range of different raw materials that significantly influence process performance. This demands a continuous optimization of process routes with respect to energy efficiency as well as environmental emissions. Steadily changing raw material prices and qualities, market situations, and product variations are challenging integrated steel plant operators in terms of production planning and cost optimization. Encouraged by state-of-the-art process simulation practices as applied in the petrochemical and oil and gas industries, Primetals Technologies decided to develop a comprehensive metallurgical flow sheet model library for simulation and optimization of integrated steel plants. Intensive development efforts were made in order to migrate existing, well established calculation and engineering routines as well as integrate newly developed models. The generated model library enables the setup of mass and energy balances for integrated steel plants in tandem with professional simulation and optimization capabilities. Development and evaluation of new process concepts as well as investigations of impacts of raw material changes and trace material distributions can be performed on one platform. Using this process integration system, it is possible to compare different iron and steelmaking routes within one standardized environment. In this publication an insight into how an integrated steel plant operates will be given using the example of a real operation simulation, along with an analysis of selected trace materials via the full ironmaking production route. Additionally, the functionalities for raw material planning by usage of optimization techniques and consideration of core KPIs will be shown. The effect of applied functionalities on operation figures and operation costs will be clearly illustrated.
Speaker
Dr. Bernd Weiss
Co-Authors
Andreas Spanlang, K1-MET GmbH
Walter Wukovits, Technische Universität Wien
Environmental and Energy Aspects
Date: June 24–28, 2019
Location: CCD Congress Center Düsseldorf
Address: Stockumer Kirchstraße 61, 40474 Düsseldorf, Germany
For further questions or to schedule a meeting at our booth at METEC, please send an email to metecsymbolprimetalspunktcom.
We look forward to seeing you in Düsseldorf!