---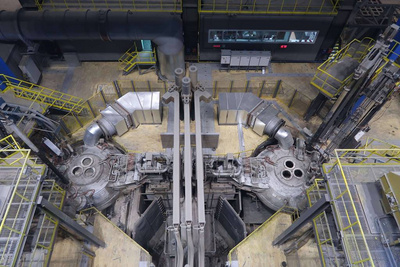 London, February 21, 2019
Primetals Technologies receives FAC from Severstal for ladle furnace supplied to Cherepovets converter steel works
Twin ladle furnace treats 4.8 million metric tons of liquid steel per annum
High degree of automation through Level 2 process models
Production capacity of converter steel works increases to almost 10.3 million metric tons per annum
Consolidation of liquid steel treatment significantly reduces operating costs
Russian steel producer PAO Severstal issued the Final Acceptance Certificate for a new twin ladle furnace supplied by Primetals Technologies to the converter steel works in Cherepovets. The ladle furnace is able to treat 375 metric ton charges of liquid steel with a treatment time not more than 45 minutes, and has an annual capacity of 4.8 million metric tons. This increases the production of converter steel from its previous maximum of 9.5 million to almost 10.3 million metric tons per annum. The additional ladle furnace also enables all the steel treatment to be brought together into a single section of the plant. This reduces annual operating costs by approximately 10 million euros.
The Cherepovets Metallurgical Plant in the Vologda region is part of the "Severstal Russian Steel" Division of PAO Severstal and is one of the world's largest integrated iron and steel works. It produced around 11.65 million metric tons of liquid steel in 2017. The steel is used to make a large number of end products, including hot- and cold-rolled flat steel, galvanized and coated products, and long products. The Cherepovets converter steel works has three converters, each with a capacity of 350 metric tons. Until now, only one ladle furnace has been available for treating liquid steel supplied by Primetals in the past.
Primetals Technologies was responsible for engineering the twin ladle furnace, the alloying system, the dedusting system, and supplied key components. The scope of supply also included the associated
electrical and automation equipment. The installed Level 2 system has been seamlessly integrated in the plant's system and allows a high degree of automation due to the use of pre-calculated process models. In addition, Primetals Technologies supervised the installation and commissioning, and provided the staff training.
Severstal was responsible for the technical documentation development and the construction activities. The company invested approximately 43 million euros to expand of its treatment capacity. Severstal and Primetals Technologies can look back on many years of close cooperation.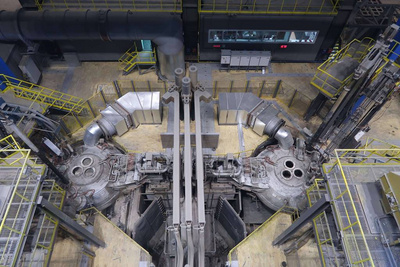 Twin ladle furnace supplied by Primetals Technologies to the Cherepovets, Russia converter steel works of PAO Severstal
Primetals Technologies, Limited headquartered in London, United Kingdom is a worldwide leading engineering, plant-building and lifecycle services partner for the metals industry. The company offers a complete technology, product and service portfolio that includes integrated electrics, automation and environmental solutions. This covers every step of the iron and steel production chain, extending from the raw materials to the finished product – in addition to the latest rolling solutions for the nonferrous metals sector. Primetals Technologies is a joint venture of Mitsubishi Heavy Industries (MHI) and Siemens. Mitsubishi-Hitachi Metals Machinery (MHMM) - an MHI consolidated group company with equity participation by Hitachi, Ltd. and the IHI Corporation - holds a 51% stake and Siemens a 49% stake in the joint venture. The company employs around 7,000 employees worldwide. Further information is available on the Internet at www.primetals.com.