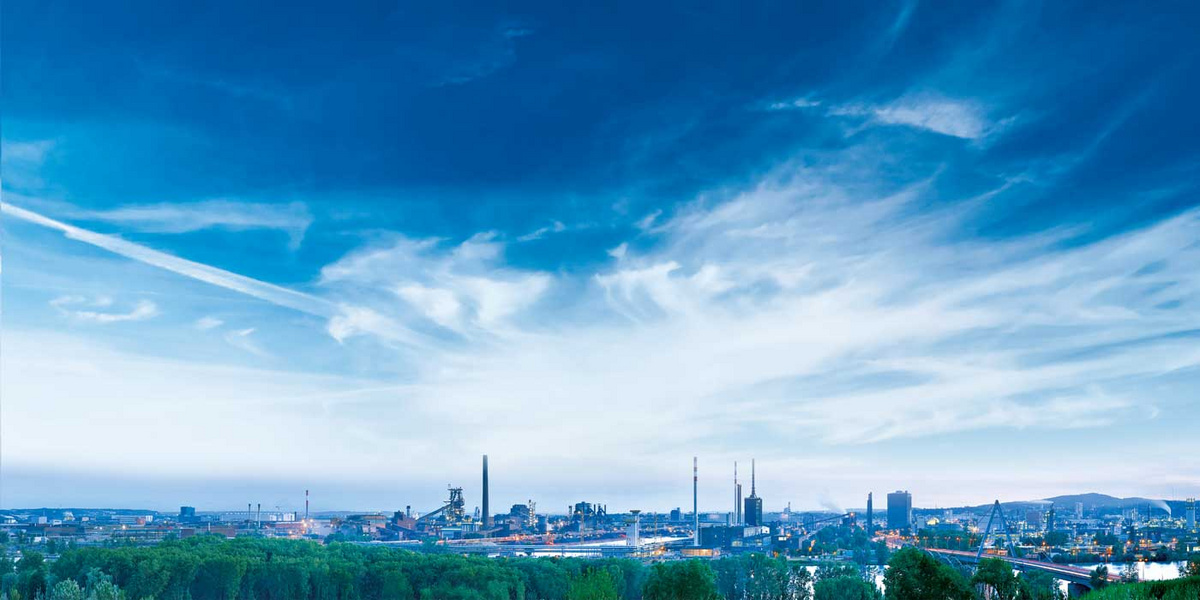 READY FOR THE FUTURE
INTERVIEW WITH DR. FRANZ ANDROSCH, HEAD OF RESEARCH & DEVELOPMENT AT VOESTALPINE AG
What are the main challenges that your company is currently facing?
Dr. Franz Androsch: One of the challenges is to follow our customers globally in order to meet their demand for an increased local presence. Our goal is to be able to serve our main customers worldwide, for example in the premium segment of automotive applications with the high-quality products they are accustomed to. voestalpine is well positioned because our products are at the top of the quality pyramid. And we are increasingly becoming a global company, as shown by our new GoWest direct-reduction plant under construction in Texas.
How do you see the future of the steel industry in your market areas, and what factors need to be taken into consideration?
Androsch: The steel industry is growing only slightly at the moment. There is a much greater growth rate for higher- value products such as HSS [high-strength steels], which is expected to increase some 200% during the next ten years. There is also an increasing substitution of lower-grade steels with higher-grade steels. Therefore, greater emphasis will have to be placed on quality, not capacity, which will be reflected by the associated change in our product portfolio. For more than 15 years now, the voestalpine Group has been following a consistent downstream strat-egy of focusing on high-quality products. This has proven to be the key to differentiating us from the competition.
"Innovation is the key word for voestalpine's worldwide success and for meeting the challenges that lie ahead."
What major activities, efforts or investments are planned by the voestalpine Group to meet the challenges that lie ahead?
Androsch: Innovation is the key word for voestalpine's worldwide success and for meeting the challenges that lie ahead. The current record-breaking budget of more than €140 million shows clearly that research, development and innovation have top priority at voestalpine Group. Consistent investment in this key sector is essential, as it is clear to everyone at voestalpine that we can only ensure our future as an international player in sophisticated product segments by specializing and maintaining our technology and quality leadership.
What do you see as the main areas for further research and development to improve production operations, costs and market opportunities at voestalpine
Androsch: Three areas: The first is that we work closely with the K1-Met* competence center with the goal of improving process steps and energy efficiency, increasing the value of byproducts and reducing CO2 emissions. The second area is related to the manifold properties of steel. Research is ongoing and we are stepping up efforts to improve steel's strength and formability, also at higher- strength levels. A lot will take place in the next 10 to 15 years. Thirdly, we are pushing smart production as part of the Industry 4.0 initiative, which is often referred to as the Internet of Things. In fact, an Industry 4.0 platform is being planned for group-wide application. Industry 4.0 is more evolutionary than revolutionary. We need to take a fresh look at this topic in order to apply the latest process models, interconnect our complete technology spectrum, improve statistical process models, and increase efficiency and productivity. Developments in automation are also continuing.
voestalpine Stahl and Primetals Technologies recently signed a contract for the installation of a prototype plant on an industrial scale for the dry granulation of blast furnace slag. The plant will be built at the voestalpine steelworks in Linz. What targets have to be met with this project for it to be successful? And what is the estimated payback period for this worldwide unique DSG [dry slag granulation] plant?
Androsch: In order for this project to be successful, the slag granulate has to meet the requirements for its use as a cement clinker substitute. Secondly, an off-air temperature in the range of 600°C has to be achieved to efficiently generate superheated steam. The payback period depends on the energy costs when the plant is started up. However, we expect that the DSG plant with an average slag-flow rate of 2 t/min and which includes a boiler system will have a payback period in the range of three years. As we go along in the project, we will be able to better define the payback period. Don't forget – this is a development project and not an investment project, so payback is a still a moving target.
What could be the energy savings with a fully installed DSG plant at the voestalpine steelworks?
Androsch: We estimate approximately 1.5% of the specific energy per ton of steel, or around 1.5 GJ per ton of blast furnace slag. We need about 500,000 tons of steam per year in the Linz steelworks and 75% of that could be produced with the DSG process – which means huge energy savings. Energy-efficiency laws will also become more and more important, which means that the payback period could actually be shorter.
In your opinion, what will be the focus of future environmental developments within a steelworks?
Androsch: Increased recycling of byproduct materials, such as sludge, dusts and slag in a closed-loop cycle. A lot also depends on E.U. legislation regarding CO₂. The use of natural gas to produce DRI [direct-reduced iron] at our DR plant in Texas for reduction work will be a step toward lowering CO₂ emissions in iron- and steelmaking. Increasing the portion of electric arc furnaces that we use to produce steel might be an option for the future. A key topic for us within the E.U. is to ensure that there is a level playing field in connection with CO₂ tax costs. But we are now a global company and more flexible, so we have the possibility to adapt accordingly.
What are the main criteria that you consider when selecting a technology supplier, and which factors do you value most when dealing with business partners?
Androsch: Business has to be a win-win situation for all parties involved. voestalpine relies on long-term cooperations to sustainably build up its know-how. Suppliers should also keep in mind that they have to invest in research on a long-term basis.
One final question: how would you characterize the business relationship with Primetals Technologies and its former companies?
We have a lot of trust. It's a long-term relationship and a win-win situation. There is a common commitment to research and long-term development. voestalpine and Primetals Technologies have a decades-long history in cooperative developments – for example with Meros, Selective Waste Gas Recirculation or Liquirob [robotic solutions] applications during the past years, and now with the DSG project and also with fines briquetting for the GoWest DR plant project in Texas. The joint establishment of the K1-Met* competence center of metallurgy represents another milestone for the development of future-oriented technologies. The DSG project exactly fits into this footprint and serves as another example of where both parties are willing to invest and take risks.
*K1-Met, which comprises industrial and scientific partners, is a publicly funded competence center that focuses on the modeling, simulation and automation of metallurgical processes; on valuation and optimization of metallurgical raw materials and refractories; on development and optimization of processes and key components used in metallurgical plants; and on the implementation of solutions to improve product quality, achieve zero-waste processing in metallurgy, and minimize energy and raw material consumption.
Contract-signing ceremony
at the Primetals Technologies Metec stand for a blast furnace dry-slag granulation project (Düsseldorf, June 16, 2015). Dr. Franz Androsch (left), voestalpine AG, and Dr. Etsuro Hirai, CTO of Primetals Technologies