PRIMETALS TECHNOLOGIES FRANCE
100 YEARS OF METALLURGICAL EXCELLENCE
In 2017, Primetals Technologies France celebrates the 100th anniversary of the founding of its workshop in Montbrison, France. Starting from the first day, Primetals Technologies France has continuously evolved up until the present. What remains is its tradition of quality, technology, innovation and leadership to always offer its customers state-of-the-art solutions.
A PROUD HISTORY AT THE HEART OF THE METALS INDUSTRY
In June 1857, Etienne Chavanne, a mechanic, opens his first foundry in Saint-Chamond (Loire, France) where he specializes in the manufacture of mill cylinders in tempered cast iron. The company "Chavanne-Brun" is established. In 1913, the name changes to "Société Anonyme des Anciens Etablissements Chavanne-Brun Frères," and new products are manufactured that are mostly related to the steel industry (gasifiers, rolling mills, etc.). During the First World War (1914–1918), Chavanne-Brun Frères continues its work and various products for the National Defense are manufactured. Because of production growth and the lack of available space in Saint-Chamond, a new workshop is built in Montbrison in 1917.
In 1947, Chavanne-Brun Frères and Delattre et Frouard Réunis establish a common subsidiary: Secim (Société pour l'Etude et la Construction d'Installations Métallurgiques) sets out to sell equipment for rolling mills (essentially under a license granted by the U.S. company United Engineering and Foundry Company). Secim rises to global dimensions by working with steel companies across the world. Delattre et Frouard Réunis takes control over the "Rolling Mill Division" of Chavanne-Brun Frères in 1959 and the company becomes "Etablissements Delattre-Levivier." In 1965, the Schneider group acquires a major share of the Etablissements Delattre Levivier, and an industrial company is created with the goal to design, study and manufacture rolling mills under the name Secim. With two factories in Montbrison and Ferrière-la-Grande, Secim has a privileged relationship with Forges et Ateliers du Creusot (SFAC).
Clecim was founded in 1982 as a result of the merger of two subsidiaries: Creusot-Loire Secim and Clesid. The Montbrison site continues to design and construct medium-size equipment such as hot and cold mills for steel and non-ferrous metals, extrusion presses, continuous casting equipment for steel and aluminum, presses and many other applications. The company then fully integrates with major renowned international groups of the metal industry such as Siemens VAI in 2005.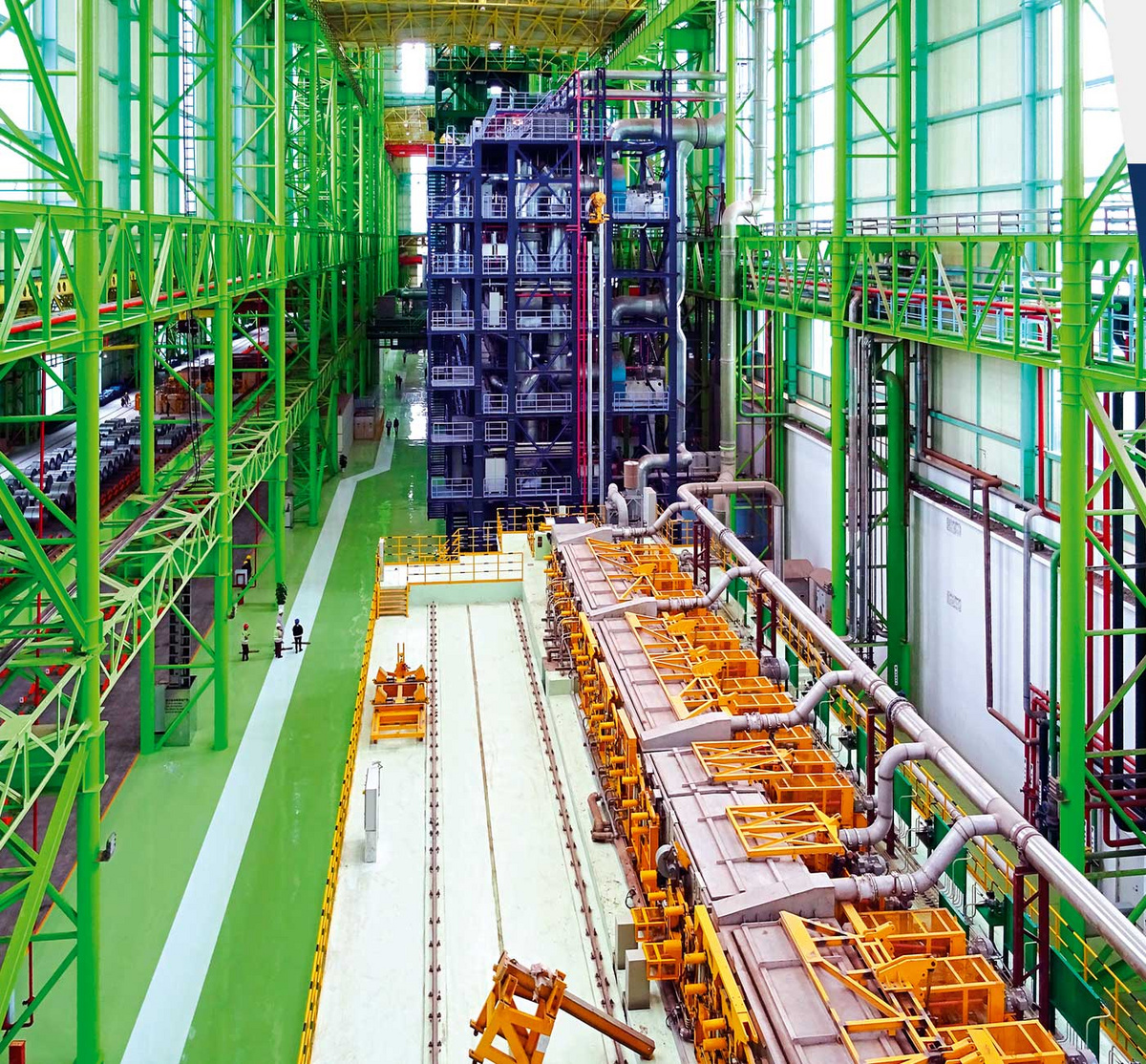 Continuous galvanizing line from Primetals Technologies at Ansteel ThyssenKrupp Auto Steel Company in Chongqing, China
A STRONG TECHNOLOGICAL LEGACY WITH SUCCESSFUL INSTALLATIONS
Finally, on January 7, 2015, a new company era is born with the founding of Primetals Technologies, Limited. Primetals Technologies France serves as a center of competence within the group for carbon steel processing lines, stainless steel rolling and processing lines, mechatronics solutions for rolling and processing plants and metallurgical services.
One of the keys to the sustained success of the company is based on an experienced and expert workforce that supports its customers at every step of their projects, thereby enabling the development of countless innovative solutions and guaranteeing the success of new installations. The workforce of Primetals Technologies France covers the whole lifecycle of its customers' projects: commercial and project management, technical design acquisition, engineering and purchasing to manufacturing and logistics via services, as well as in-house metallurgical and process competences.
DRIVING THE NEXT GENERATION THROUGH INNOVATION
What new developments lie ahead in steel processing? Which are the areas that future research efforts should focus on? From the beginning, Primetals Technologies France has always seen itself as a partner to its customers, helping them to find the right answers to their problems and transforming their ideas into reality. As an experienced plant builder and solution provider, Primetals Technologies France understands the technological requirements and the needs of its customers. It combines its expertise in equipment design and control with proven metallurgical and process competences to promote the development of next-generation processing lines. Thanks to in-house testing and development facilities, which include a surface-inspection test platform, rolling and leveling trial facilities, heat treatment and galvanizing simulators, Primetals Technologies France develops future-oriented solutions for an optimized operation and a higher efficiency of processing lines. A high-end product mix makes a decisive contribution to driving plant operation toward a quality-oriented approach. For more than ten years now, Primetals Technologies has implemented the necessary solutions to efficiently track all relevant process and quality data within steel plants, and to conduct data analyses in real time by use of dedicated expert systems. Having pioneered this concept with TCOptimizer, which is the module dedicated to a more process-focused monitoring at continuous annealing and continuous galvanizing lines, Primetals Technologies is now expanding this principle at plant level with the Through-Process Quality Control system. This approach incorporates comprehensive tracking and analysis over the full production chain, from the liquid steel to the saleable coil.
CUSTOMIZED SOLUTIONS FOR CUTTING-EDGE PROCESSING LINES
Aside from the already discussed areas of competence, the France location of Primetals Technologies also specializes in carbon-steel processing lines and stainless-steel rolling and processing lines. A complete range of facilities is supplied that includes pickling lines; galvanizing lines; continuous annealing lines; color-coating lines; electrolytic tinning and tin-free lines; inspection, tension leveling and skin-passing lines; stainless-steel rolling mills; and annealing and pickling lines. An optimized integration of mechanical and hydraulic equipment, including furnace, electrical and automation systems, is ensured by Primetals Technologies France in turnkey-supplied plants. Additionally, metallurgical services and end-to-end process expertise is provided for each type of processing line.
MECHATRONIC PACKAGES: BENEFITS OF BUNDLED EXPERIENCE
The advanced solutions from Primetals Technologies France combine in-house technology, mechanical engineering and automation expertise. The company location provides a wide range of mechatronic packages that include laser or resistance welders, scale breakers, in-line skin-pass mills, tension levelers, the fully automated SIAS surface- inspection system, roll coaters, the Dynawipe air knives, side trimmers and scrap choppers. These are manufactured, assembled and tested in the workshop facilities of Primetals Technologies France and are offered for both new lines and existing plants. Immediate operational improvements and a fast return on investment is assured. Since 2012, the mechatronic products of Primetals Technologies are equipped with condition- monitoring systems to support an optimal use of supplied plants and equipment in addition to accurate maintenance scheduling and the prevention of downtime. Remote- access functionalities and dedicated hotlines have also been implemented to ensure a broader field of support. Advantages include timely hardware diagnosis, support over a longer time period and defect-detection analysis.
LONG-TERM PARTNERSHIPS TO OPTIMIZE THE LIFECYCLE OF PRODUCTION LINES THROUGH MAINTENANCE AND CONTINUOUS IMPROVEMENT
Service has always been at the center of the company's priorities with four cornerstones, namely: reactivity, adaptability, efficiency and closeness. The department for maintenance services provides:
Supply of spare parts: A-class components, capital project spares, genuine spare parts on drawings
Long-term service agreements with yearly maintenance contracts, expertise, upgrades, advanced solutions, training (on site or in-house)
Offline maintenance services: expertise, repair, state-of-the-art modernization, testing facilities
Line projects: revamps and additional equipment, mechatronic projects.
PRIMETALS TECHNOLOGIES FRANCE IN FIGURES
100 years of metallurgical excellence
Around 280 employees working in Montbrison, France
20,000 m² of floor space area in the workshop
3 certifications: ISO 9001, 14001 and OHSAS 18001
1 nickel-coating facility
584 processing lines installed worldwide (for the entire Primetals Technologies group)
459 skin-pass mills, tension levelers and scale breakers, designed and installed around the world since 1953
210 welders designed and supplied since 1972
136 SIAS strip-surface inspection lines in operation since 1994
7 TCOptimizers supplied since 2010
500 service orders per year for steel mills