THE MECHATRONICS CENTER OF PRIMETALS TECHNOLOGIES
DEVELOPING THE SOLUTIONS FOR OPTIMIZED PLANT PERFORMANCE
The Mechatronics Lab, a new demonstration facility based at the Linz location of Primetals Technologies, allows visitors to discover the company's solutions and references in a highly informative manner.
Linz is the mechatronics competence center of Primetals Technologies. More than 50 mechatronics specialists work closely together in the development of specialized systems that extend from individual measurement devices up to completely integrated mechatronic packages for all types of production and processing lines. The focus, as always, is to maximize benefits for producers related to product quality improvements, efficiency, maintenance, safety and environmental protection. More than 1,000 mechatronics references at metals production plants throughout the world underline the experience, competence and dedication to excellence of the mechatronics team of Primetals Technologies.
THE MECHATRONICS LAB
At the dedicated Mechatronics Lab of Primetals Technologies in Linz, Austria, state-of-the-art mechatronics systems and solutions are pioneered, tested and optimized before they find application in metallurgical plants. The lab also serves as a demonstration center for visitors where the functioning and advantages of tailored mechatronic solutions for metallurgical plants and equipment can be presented and discussed with customers. Three demonstration highlight areas are now on display at the Mechatronics Lab: Hyperspace, the Multi-Purpose Annealing Simulator and the LiquiRob robotic solutions, which are outlined in the following.
HYPERSPACE
A FUTURISTIC TECHNOLOGY DEMONSTRATION CENTER FOR VISITORS
A unique, interactive demonstration center referred to as Hyperspace has recently been inaugurated at the Linz-based Mechatronics Lab of Primetals Technologies Austria. Using cutting-edge technology such as animated virtual reality environments and videos, the company's vast product portfolio is showcased and explained in an intuitive and highly impressive manner. A touch-controlled, large-sized monitor allows customers to selectively study the many references that Primetals Technologies has accumulated over time. The monitor also presents many of the most striking technological solutions that the company has at its disposal. All of this is underscored by a huge media library that consists of both short movies and photographic impressions of various reference projects.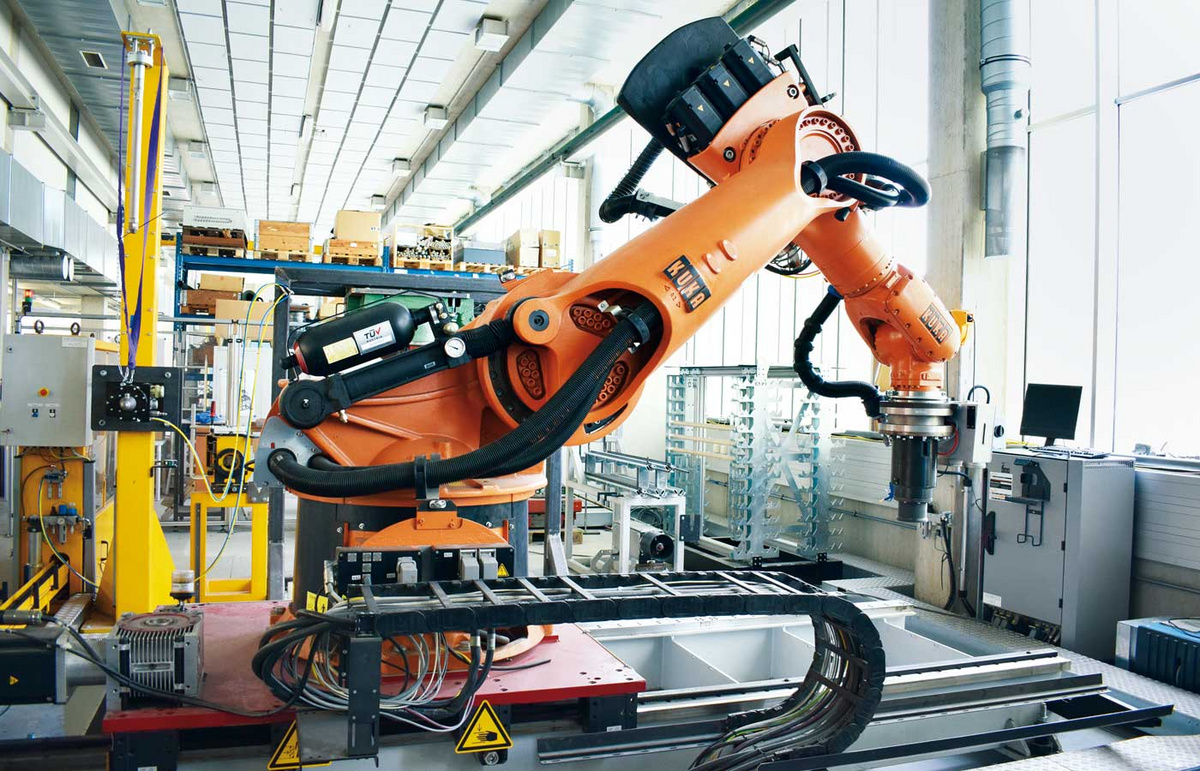 The LiquiRob robotic solution is a multipurpose robot that increases worker safety and plant efficiency.
The virtual reality room is outfitted with a multi-functional presentation system that includes high-resolution 3D glasses and an ultra-high-definition monitor. All of these devices let the viewer explore the technologies and recently completed, large-scale projects of Primetals Technologies. Have you ever wanted to fly up to the top of the reduction tower of voestalpine's Corpus Christi- based hot-briquetted iron plant in Texas, U.S.A.? This and many other adventurous undertakings can now be safely tackled with ease – thanks to the wonders of virtual reality.
Technological solutions may sometimes be incredibly complex. The full scope of solutions at work in a state-of-the-art steelmaking plant take even the most passionate metallurgist years to grasp. In the Hyperspace showroom of Primetals Technologies Austria, many of the most innovative solutions of the company can be inspected in a completely new and exciting manner. So be sure to stop by and visit Hyperspace Center on your next trip to Linz!
THE MULTI-PURPOSE ANNEALING SIMULATOR
OPTIMIZE THE PRODUCT OR PROCESS IN THE LAB BEFORE YOU INSTALL IT!
Primetals Technologies has recently installed a Multi- Purpose Annealing Simulator (MPAS) also at the Mechatronics Lab in order to increase the company's capability to support customers in the development and optimization of new steel grades and production processes. The MPAL enables the influence of different process parameters on the mechanical properties of strip (tensile strength, elongation, hardness, magnetic properties, etc.) to be simulated, tested and optimized in the laboratory. The process parameters necessary to achieve the desired mechanical properties of strip can then be applied in an industrial environment. All types of annealing, heating and cooling parameters in processing lines, such as annealing and galvanizing lines, can be simulated.
Customer services are also offered This includes the execution of trials to develop and optimize products as well as the associated technological processes. A particular benefit of the MPAS is that it can handle relatively large sample sizes at high throughput rates. This supports fast and cost-effective development cycles and a short time to market (TTM). Contrary to actual production conditions, the unique water-quenching feature of the MPAS makes it possible to "freeze" the material structure during each phase of a treatment process. This allows detailed metallurgical analyses (grain size, precipitation, phase transformations) to be carried out for a deeper understanding of the evolution of the material inner structure and material properties.
The Multi-Purpose Annealing Simulator underlines the metallurgical and process design competence of Primetals Technologies. The simulator supports the validation and further development of the physical-metallurgical process models that are vital for optimized plant performance.
"It is much more cost-effective to do initial testing and development work in the laboratory before a product or process is implemented at the industrial production line. This minimizes risk and costs and even permits detailed investigations to be carried out that are simply not possible to do during industrial production." (Dr. Thomas Pfatschbacher, Vice President of Technology & Innovation for continuous casting, endless strip production and rolling).
THE LIQUIROB ROBOTIC SYSTEM
MEET YOUR FUTURE COLLEAGUE!
In a steel plant there are many tasks that could be dangerous for human workers to execute. The work is especially precarious in plants areas where liquid metal is produced, treated or handled, or in the vicinity of moving equipment and components. Measuring the temperature or taking samples of liquid steel is one such example. Others include the manual exchange of sublance probes, opening ladles with oxygen lances and conducting tap-hole maintenance work.
When it comes to outsourcing this type of labor from humans to robots, the LiquiRob robotic solution of Primetals Technologies is the ideal choice. The robot acts as a remotely controlled extension to the human operator's arm, and eliminates the need for plant personnel to be physically present in the danger zones. With LiquiRob as a colleague, workers in steel plants no longer have to mount sublance probes or take samples of liquid steel themselves. The robot does these tasks for them – in an incredibly fast, reliable and repetitive manner. Many other applications can be performed by LiquiRob, yet all have the preeminent goal of increasing worker safety and maximizing plant efficiency.
You can now meet the LiquiRob robot first-hand in a dedicated showroom of the Mechatronics Lab of Primetals Technologies in Linz. Its extraordinary versatility, rigid construction and "lightning-fast" maneuverability are best studied in person. The Primetals Technologies Mechatronics team looks forward to introducing you soon to Mr. LiquiRob.
The Multi-Purpose Annealing Simulator supports customers in the development of new steel grades and production processes.