---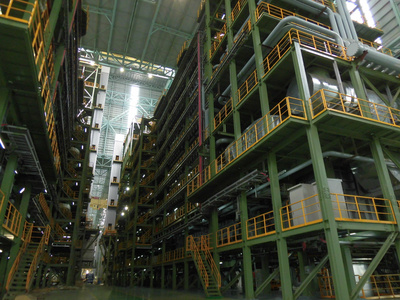 London, July 14, 2016
First coil processed at Baosteel Zhanjiang on continuous galvanizing line supplied by Primetals Technologies
Rated capacity is 465,000 metric tons of strip per year
Automotive and home appliance steel grades are processed
At the production facility of Chinese steelmaker Baosteel Zhanjiang Iron & Steel Co. Ltd., a continuous galvanizing line (CGL) supplied by Primetals Technologies, processed the first coil at the end of March. The new CGL No. 2 is designed to galvanize 465,000 metric tons per year, covering a wide range of steel grades for automotive and home electrics appliance uses for the markets in southern China and Southeast Asia. The order had been awarded to Primetals Technologies in August 2013.
Baosteel Group Corporation is one of the largest iron and steel conglomerates in the world and was established in November 1998. Its annual steel production amounted to 43,3 million metric tons in 2014. Baosteel produces high quality products for the domestic and international market. Baosteel Zhanjiang Iron & Steel Co. Ltd became part of the group in 2012. The production site is located in the Zhanjiang, a port city in Guangdong Province. The CGL is part of a production complex recently set-up to serve customers in southern China and Southeast Asia.
CGL No. 2 has a capacity of 465.000 metric tons per year and processes strips with widths between 900 and 1,860 mm at strip thicknesses ranging from 0.45 to 2.3 mm. Product grades include CQ,DQ,DDQ,EDDQ,SEDDQ,440-590 CQ, 390-440 DQ, 440 DDQ, 340 BH and 590 DP steels. Primetals Technologies was the main contractor for all imported equipment, e.g. the furnace, the after pot cooling equipment, including their instrumentation and software. Additionally, Primetals Technologies offered supervising services for erection and commissioning as well as operator training. Electrical Equipment was supplied by BAOSIGHT (Shanghai Baosight Software Co., Ltd.). Other mechanical equipment in the line was supplied by BSEE (Baosteel Engineering & Technology Group Co., Ltd.). Both partner companies are subsidiaries of Baosteel.
Primetals Technologies, Limited headquartered in London, United Kingdom is a worldwide leading engineering, plant-building and lifecycle services partner for the metals industry. The company offers a complete technology, product and service portfolio that includes integrated electrics, automation and environmental solutions. This covers every step of the iron and steel production chain, extending from the raw materials to the finished product – in addition to the latest rolling solutions for the nonferrous metals sector. Primetals Technologies is a joint venture of Mitsubishi Heavy Industries (MHI) and Siemens. Mitsubishi-Hitachi Metals Machinery (MHMM) - an MHI consolidated group company with equity participation by Hitachi, Ltd. and the IHI Corporation - holds a 51% stake and Siemens a 49% stake in the joint venture. The company employs around 7,000 employees worldwide. Further information is available on the Internet at www.primetals.com