---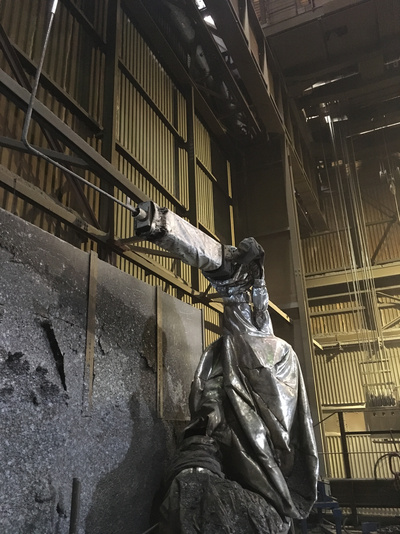 London, June 15, 2017
LiquiRob casting platform robot from Primetals Technologies brought into operation for Deutsche Edelstahlwerke
Casting platform robot makes work safer
LiquiRob handles the automatic lancing of the ladles
A LiquiRob casting platform robot from Primetals Technologies has been brought into operation in the Siegen plant of Deutsche Edelstahlwerke GmbH. The system was installed in the fall of 2016. The LiquiRob is used on the continuous billet caster, where it handles the automatic lancing of the ladles. This had previously been performed manually. As liquid steel could occasionally escape out of control, the use of the LiquiRob has made the casting work significantly safer. It is no longer necessary to enter the hazardous area. Moreover, heavier and more efficient lances can now be used. This significantly increases the success rate of the first lancing attempt.
Deutsche Edelstahlwerke GmbH is part of the Schmolz + Bickenbach Group and is one of the leading companies in the production and processing of stainless-steel long products. Some 4,000 employees work in the Witten, Siegen, Krefeld, Hagen and Hattingen plants, where they produce and process around one million metric tons of stainless steel per annum. In the Siegen plant, the steel is produced in an electric arc furnace and cast on a six-strand caster into billets with diameters ranging from 138 to 265 millimeters.
Primetals Technologies developed LiquiRob specifically to improve occupational safety and the quality of measurement under the severe operating conditions encountered in the iron and steel industry. At the moment, six systems are working in continuous casting plants around the world, plus one on an electric arc furnace and another on a converter.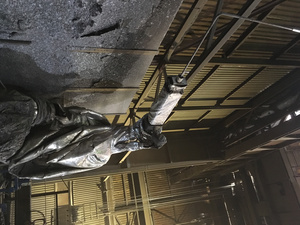 LiquiRob casting platform robot from Primetals Technologies at Deutsche Edelstahlwerke GmbH in Siegen. The LiquiRob is used there on the continuous billet caster and handles the automatic lancing of the ladles (Image courtesy DEW).
Primetals Technologies, Limited headquartered in London, United Kingdom is a worldwide leading engineering, plant-building and lifecycle services partner for the metals industry. The company offers a complete technology, product and service portfolio that includes integrated electrics, automation and environmental solutions. This covers every step of the iron and steel production chain, extending from the raw materials to the finished product – in addition to the latest rolling solutions for the nonferrous metals sector. Primetals Technologies is a joint venture of Mitsubishi Heavy Industries (MHI) and Siemens. Mitsubishi-Hitachi Metals Machinery (MHMM) - an MHI consolidated group company with equity participation by Hitachi, Ltd. and the IHI Corporation - holds a 51% stake and Siemens a 49% stake in the joint venture. The company employs around 7,000 employees.