---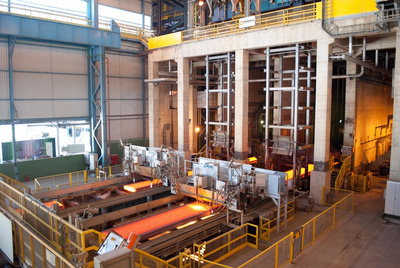 London, July 31, 2018
New SRD segments from Primetals Technologies improve final solidification in continuous slab caster at Ternium, Brazil
Individually controlled rolls adjust optimally to strand condition
SRD (Single-Roll DynaGap) segments enable final solidification point to be followed precisely
World's first use at Ternium in Brazil in one strand of a two-strand slab caster
Test results proved superior internal quality
SRD segments also ordered for second strand
Primetals Technologies is offering operators of continuous caster plants the new SRD (Single-Roll DynaGap) segments, a solution that further improves the interior quality of slabs for steel grades that place high demands on the casting process. The SRD segment has been specially developed for use in the area of final solidification, and it enables the upper rolls to be pressed down individually onto the solidifying strand. This enables the final solidification point to be followed precisely. SRD segments can be used together with or replace conventional types of segments. The first installation of SRD segments was carried out at one strand of a slab caster in the Ternium integrated steel works in Santa Cruz, Brazil. Tests proved a superior internal slab quality as compared to the second strand using conventional segments. The second strand of the caster will also receive SRD segments.
Precise knowledge of the final solidification point and the associated soft reduction is needed to reliably produce slabs for steel grades that require high internal quality. The new SRD segments from Primetals Technologies can be applied to the final solidification precisely. This enables each individual roll gap to be adjusted dynamically as a function of the steel grade, overheating, cooling or casting speed. Each roll transmits an individual force, which makes even higher thickness reduction rates possible, and reduces the segregation and porosity in the center of the strand.
SRD segments are designed for long operating cycles and easy maintenance. For example, each roll has its own overload protection, which prevents damage to the bearings and surfaces of the rolls. The rolls are embedded in a function unit so that they can be quickly replaced either in a maintenance workshop or directly on the caster during a break in production. The individual roll units can also be tested and calibrated before installation in the segments.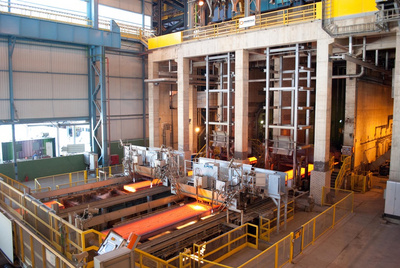 The SRD (Single-Roll DynaGap) segment newly developed by Primetals Technologies improves the interior quality in continuous slab casters. The first application in Ternium´s integrated steel works in Santa Cruz, Brazil resulted in improved internal quality of slabs.
Primetals Technologies, Limited headquartered in London, United Kingdom is a worldwide leading engineering, plant-building and lifecycle services partner for the metals industry. The company offers a complete technology, product and service portfolio that includes integrated electrics, automation and environmental solutions. This covers every step of the iron and steel production chain, extending from the raw materials to the finished product – in addition to the latest rolling solutions for the nonferrous metals sector. Primetals Technologies is a joint venture of Mitsubishi Heavy Industries (MHI) and Siemens. Mitsubishi-Hitachi Metals Machinery (MHMM) - an MHI consolidated group company with equity participation by Hitachi, Ltd. and the IHI Corporation - holds a 51% stake and Siemens a 49% stake in the joint venture. The company employs around 7,000 employees worldwide. Further information is available on the Internet at www.primetals.com.