---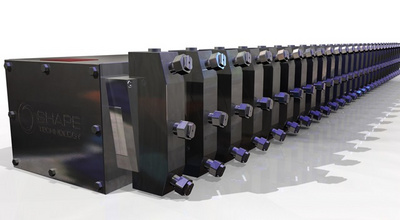 London, June 02, 2016
Novelis orders roll coolant spray system for Aluminum hot strip mill in Yeongju, Korea from Primetals Technologies
Coolant spray system will further improve strip quality

Similar system is installed in Novelis´ Ulsan plant, allowing commonality of spares
Novelis Korea Ltd has placed an order with Primetals Technologies for a new roll coolant spray system for their Aluminum hot strip mill in their Yeongju plant, Republic of Korea. Aim of the project is to further improve strip quality. The new installation at Novelis Yeongju will mirror the spray system on the Novelis Ulsan plant hot strip mill, thus allowing commonality of spares between the two plants. The project is scheduled to be carried out in two phases in October 2016 and July 2017.
The order includes new coolant spray bars with the Primetals Technologies´ Integral Solenoid Valve (ISV) for the roughing mill stand and the four finishing mill stands. The ISV Sprays system is designed to apply zone cooling and lubrication to the work rolls. The system removes residual flatness errors and controls the bulk temperature of the mill during the rolling process. Temperature control is achieved by modulating the coolant through individual ISV valves thereby controlling the thermal profile of the work rolls. The coolant sprays will be controlled by a Primetals Technologies automation system based on the Simatic TDC platform and will interface with the Novelis existing level1 and level 2 systems.
Novelis' Yeongju plant is a modern, low-cost facility that has casting, hot rolling, cold rolling, finishing and recycling facilities. Its world-class rolling equipment produces superior flat-rolled aluminum products for high-value added applications. The facility serves the beverage and food packaging markets primarily, along with construction and electronics markets in Asia.
Primetals Technologies, Limited, headquartered in London, United Kingdom, is a worldwide leading engineering, plant-building and lifecycle partner for the metals industry. The company offers a complete technology, product and service portfolio that includes the integrated electrics, automation and environmental solutions. This covers every step of the iron and steel production chain that extends from the raw materials to the finished product – in addition to the latest rolling solutions for the nonferrous metals sector. Primetals Technologies is a joint venture of Mitsubishi Heavy Industries (MHI) and Siemens. Mitsubishi-Hitachi Metals Machinery (MHMM) - an MHI consolidated group company with equity participation by Hitachi, Ltd. and IHI Corporation - holds a 51% stake and Siemens a 49% stake in the company. The company employs around 9,000 employees worldwide. Further information is available on the Internet at www.primetals.com.