---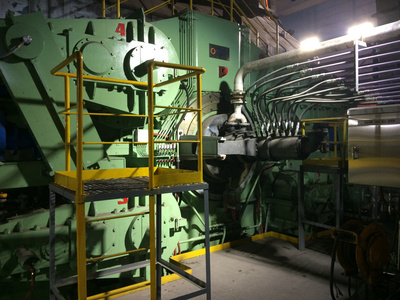 London, April 11, 2017
Posco brings converter with tilting drive modernized by Primetals Technologies into operation in Gwangyang
Emergency drives ensure almost 100% availability
Maintenance-friendly, long-life design
Possesses dimensioning and performance reserves
Safety concept for critical states such as power failure or peak loads maximizes personal and operational safety
In January, Posco, a Korean steel producer, brought LD (BOF) converter no. 1 back into operation after modernization in steel works no. 1 at its Gwangyang site. In the course of the project, Primetals Technologies had equipped the converter with a new tilting drive. The tilting drive is designed for a long service life and ease of maintenance, and still has dimensioning and performance reserves. Emergency drives ensure almost 100% availability. For critical states, such as power failure or peak loads, a special safety concept was implemented that maximizes personal and operational safety. Primetals Technologies received the modernization order at the end of 2015.
Posco thoroughly modernized the converter, which had been constructed in the 1980s and had reached the end of its service life. Primetals Technologies was responsible for the engineering and delivery of the tilting drive, as well as for consulting services for its installation and commissioning. The remaining converter components were installed by Posco. The modernization took place while the other two converters in steel works no. 1 remained in operation and, as a result of the good cooperation between Posco and Primetals Technologies, was completed five days before the scheduled deadline.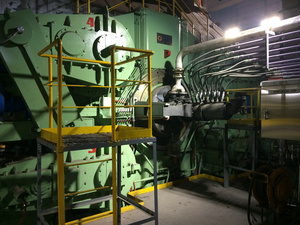 Tilting drive from Primetals Technologies on converter no. 1 in Posco's steel works no.1 in Gwangyang, Korea.
Primetals Technologies, Limited headquartered in London, United Kingdom is a worldwide leading engineering, plant-building and lifecycle services partner for the metals industry. The company offers a complete technology, product and service portfolio that includes integrated electrics, automation and environmental solutions. This covers every step of the iron and steel production chain, extending from the raw materials to the finished product – in addition to the latest rolling solutions for the nonferrous metals sector. Primetals Technologies is a joint venture of Mitsubishi Heavy Industries (MHI) and Siemens. Mitsubishi-Hitachi Metals Machinery (MHMM) - an MHI consolidated group company with equity participation by Hitachi, Ltd. and the IHI Corporation - holds a 51% stake and Siemens a 49% stake in the joint venture. The company employs around 7,000 employees.