---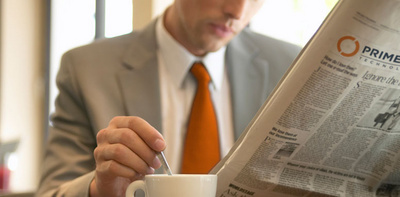 London, March 31, 2016
Primetals Technologies and Fakoor Sanat Teheran sign cooperation agreement worth 1.8 billion euros on steel projects in Iran
Joint handling of Iranian steel projects
Project volume over 1.8 billion euros
During an Austrian-Iranian business forum in Vienna, Austria, Primetals Technologies and Fakoor Sanat Teheran Engineering Co. signed a general agreement on jointly implementing various projects in the Iranian steel industry. The total volume of those projects already named is estimated to be more than 1.8 billion euros. The collaboration agreement is likely to be extended to cover further projects.
"The agreement signed today with our Iranian partners is an important milestone on the path to enhancing the position of Primetals Technologies as the leading technology supplier to the steel industry worldwide. Iran is a country with great potential for the future, and the domestic steel industry plays a lead role in the development of this potential. We look forward to working on the upcoming projects with our Iranian partners," said Yasukuni Yamasaki, CEO of Primetals Technologies. Iran will be offering good business opportunities in the medium term. The country is one of the world's 15 biggest steel producers, and has large deposits of iron ore and energy resources. The economic development of the country suggests that demand for steel will increase in many sectors, especially in infrastructure and the oil and gas industries. The Iranian government plans to more than double the steel production capacity over the next ten years.

"The cooperation with Primetals Technologies and Fakoor Sanat Teheran Engineering Co. will cover all stages of the value chain in steel production. With our decades of experience, the advanced metallurgical and technological expertise of our engineers and technicians, and our comprehensive portfolio of trailblazing and innovative technologies, we see ourselves as the ideal partner that can fulfill the high expectations of our Iranian partners for technologies and engineering skill," said Dr. Heiner Röhrl, CEO of Primetals Technologies Austria and member of the Managing Board of Primetals Technologies. Primetals Technologies has a long-standing tradition of supplying equipment to the Iranian steel industry, and a large number of reference plants in the country.
Primetals Technologies, Limited, headquartered in London, United Kingdom, is a worldwide leading engineering, plant-building and lifecycle partner for the metals industry. The company offers a complete technology, product and service portfolio that includes the integrated electrics, automation and environmental solutions. This covers every step of the iron and steel production chain that extends from the raw materials to the finished product – in addition to the latest rolling solutions for the nonferrous metals sector. Primetals Technologies is a joint venture of Mitsubishi Heavy Industries (MHI) and Siemens. Mitsubishi-Hitachi Metals Machinery (MHMM) - an MHI consolidated group company with equity participation by Hitachi, Ltd. and IHI Corporation - holds a 51% stake and Siemens a 49% stake in the company. The company employs around 9,000 employees worldwide. Further information is available on the Internet at www.primetals.com.