---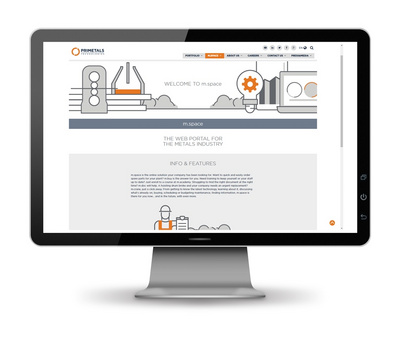 London, August 30, 2018
Primetals Technologies launches m.space web portal
Web portal for the metals industry offers various eServices
Platform shall provide buyers and sellers with the opportunity to search for, find, configure and use solutions
Web shop e.g. for spare parts will be included
In July, Primetals Technologies launched its m.space web portal. m.space. The platform for the metals industry offers various eServices and shall provide users with the opportunity to search for, find, configure and use eService solutions. An online payment feature will be added in 2019.
m.space offers a growing number of innovative online services on a single web portal. In a later stage, customers will be able to create a user account valid for the whole m.space area, which enables a single-sign-on to all services on m.space as well as web shop functionalities.
The new web platform includes a spare parts store, offers eTraining and eCoaching solutions, online documentation for plants with augmented reality support as well as online support for updates and revision of documentation. It is also home for further data based services.
Namely, m.space includes the following components and services: m.academy, an online training platform with eLearnings, m.doc, a document management system with redlining services, m.buy, an online spare parts catalogue, m.crane, an online parametric engineering of crane hoisting drums.
m.space may be accessed via www.primetals.com/mspace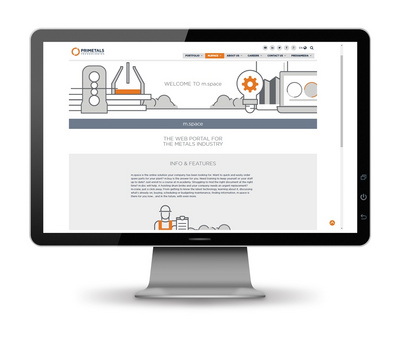 m.space from Primetals Technologies is the first web portal for the metals industry offering various eServices.
Primetals Technologies, Limited, headquartered in Frimley, Camberley, United Kingdom, is a worldwide leading engineering, plant-building and lifecycle partner for the metals industry. The company offers a complete technology, product and service portfolio that includes the integrated electrics, automation and environmental solutions. This covers every step of the iron and steel production chain that extends from the raw materials to the finished product – in addition to the latest rolling solutions for the nonferrous metals sector. Primetals Technologies is a joint venture of Mitsubishi Heavy Industries (MHI) and Siemens. Mitsubishi-Hitachi Metals Machinery (MHMM) - an MHI consolidated group company with equity participation by Hitachi, Ltd. and IHI Corporation - holds a 51% stake and Siemens a 49% stake in the company. The company employs around 7,000 employees worldwide. Further information is available on the Internet at www.primetals.com.