---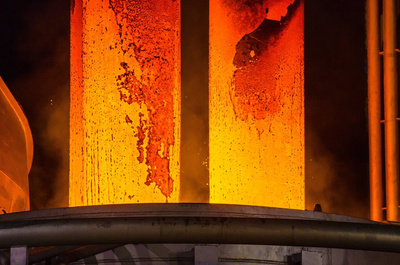 London, January 16, 2018
Primetals Technologies receives final acceptance for modernization of electric arc furnace from EVRAZ ZSMK
Shorter tap-to-tap times increase productivity
Electrode consumption is reduced
In November, EVRAZ Consolidated West Siberian Metallurgical Plant (EVRAZ ZSMK) issued the final acceptance certificate for an electric arc furnace modernized by Primetals Technologies. Electric arc furnace no. 2 is providing with blooms the EVRAZ ZSMK rail mill located in Novokuznetsk, Siberia. The object of the project was to improve the productivity of the furnace still further, in particular by shortening the tap-to-tap times and reducing electrode consumption. Primetals Technologies had received the order in July 2015.
EVRAZ ZSMK runs two production facilities for long products and rails in Novokuznetsk in the Kemerovo Oblast. The rail mill has an electric arc furnace, one bloom continuous caster, one rail and section rolling line. Rails with a length of up to 100 meters are produced according to international standards for both the Russian market and for export.
For the modernization project, Primetals Technologies supplied two new upper shells, an RCB (Refining Combined Burner) system including valve stands, and systems for blowing in coal and lime.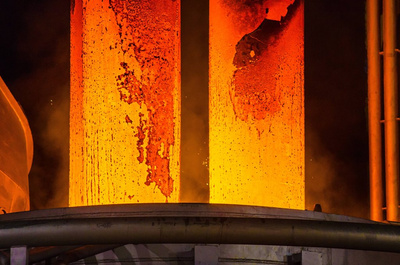 Highly efficient energy input at an electric arc furnace with the aid of modern process control from Primetals Technologies.
Primetals Technologies, Limited headquartered in London, United Kingdom is a worldwide leading engineering, plant-building and lifecycle services partner for the metals industry. The company offers a complete technology, product and service portfolio that includes integrated electrics, automation and environmental solutions. This covers every step of the iron and steel production chain, extending from the raw materials to the finished product – in addition to the latest rolling solutions for the nonferrous metals sector. Primetals Technologies is a joint venture of Mitsubishi Heavy Industries (MHI) and Siemens. Mitsubishi-Hitachi Metals Machinery (MHMM) - an MHI consolidated group company with equity participation by Hitachi, Ltd. and the IHI Corporation - holds a 51% stake and Siemens a 49% stake in the joint venture. The company employs around 7,000 employees worldwide. Further information is available on the Internet at www.primetals.com.