---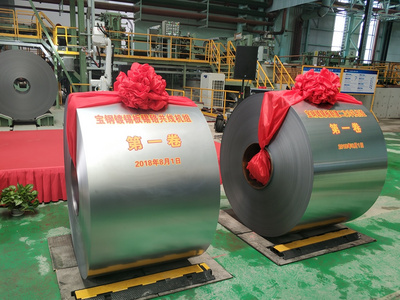 London, November 08, 2018
Primetals Technologies starts up first processing line with newly developed integrated automation solution at Baosteel
New electrolytic metal coating line for Baosteel Shanghai has produced first coil in August
First application of newly developed integrated automation solution in a processing line
Improves performance of technological controls and facilitates operation and diagnostics
New control system makes tinning line fit for the next 20 years
First coil was produced two weeks ahead of schedule
In August, an electrolytic metal coating line equipped with an integrated automation solution developed by Primetals Technologies was started up at Baoshan Iron and Steel Co Ltd (Baosteel) in Shanghai. This is the first application of a new automation concept specifically designed for processing lines. The utilization of the new integrated automation concept along with the powerful high-end PLCs improves considerably the performance of technological controls, whereas the new innovative Human-Machine-Interface (HMI) concept will facilitate operation and diagnostics. The automation implemented in the tinning line will make it fit for the next 20 years. The first coil was produced two weeks ahead of schedule.
Primetals Technologies´ scope of supply encompassed the control system, including basic (level 1) and process automation (level 2) as well as the HMI system of the complete fully automated line, including entry section, entry looper, electrolytic tinning section, tension leveler, and the exit section with magnetic belt transfer. Additionally, 347 motor drives and 251 gear motors were supplied. A separate safety control system was installed.
Baoshan Iron and Steel Co Ltd is part of the China Baowu Steel Group Corp Ltd, with an annual production of 65.4 million metric tons (2017) the second largest steel producer in the world. The production chain covers every step of iron and steel making, extending from raw materials to the finished product. In order to meet the increasing needs of tinned and chromed products, Baosteel decided to build a new combined electrolytic tinning and tin-free steel line. It has a design capacity of 200,000 metric tons per year. At a process speed of 450 meters per minute, materials with thicknesses ranging from 0.12 to 0.36 millimeters and widths between 700 and 1,230 millimeters may be processed. The Baosteel Electrolytic Metallic Coating Line is a combined processing line for electrolytic tinning and tin-free steel production (ETL/TFSL). The products are primarily intended for food industry packing cans. The line is highly automated, using robots in the entry and exit sections Due to the high automation level, no entry operator and thus no entry operation room is required anymore.
Today's challenging markets require producers to permanently improve their plant operations, and this prominently includes automation systems. New concepts, such as integrated automation solutions, Profinet, easy-to-use and intuitive HMIs and powerful closed-loop controls, combined with decades of proven know-how, are the fundamentals of an innovative automation system.

Modularized software secures investments today and tomorrow, and enables notable productivity increases to be achieved. Such features are the key factor for an optimal solution, whether for new plants, a partial or even complete automation upgrade. The innovative automation concept for processing lines developed by Primetals Technologies is introduced with special attention placed on latest hardware developments with unification of equipment. This contributes to hardware standardization, simplified maintenance and improved system diagnostics.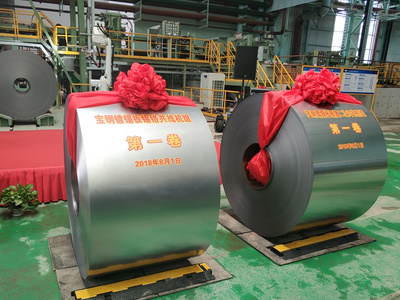 First coils produced on the electrolytic metal coating line equipped with an integrated automation solution developed by Primetals Technologies at Baoshan Iron and Steel Co Ltd (Baosteel) in Shanghai.
Primetals Technologies, Limited headquartered in London, United Kingdom is a worldwide leading engineering, plant-building and lifecycle services partner for the metals industry. The company offers a complete technology, product and service portfolio that includes integrated electrics, automation and environmental solutions. This covers every step of the iron and steel production chain, extending from the raw materials to the finished product – in addition to the latest rolling solutions for the nonferrous metals sector. Primetals Technologies is a joint venture of Mitsubishi Heavy Industries (MHI) and Siemens. Mitsubishi-Hitachi Metals Machinery (MHMM) - an MHI consolidated group company with equity participation by Hitachi, Ltd. and the IHI Corporation - holds a 51% stake and Siemens a 49% stake in the joint venture. The company employs around 7,000 employees worldwide. Further information is available on the Internet at www.primetals.com.