---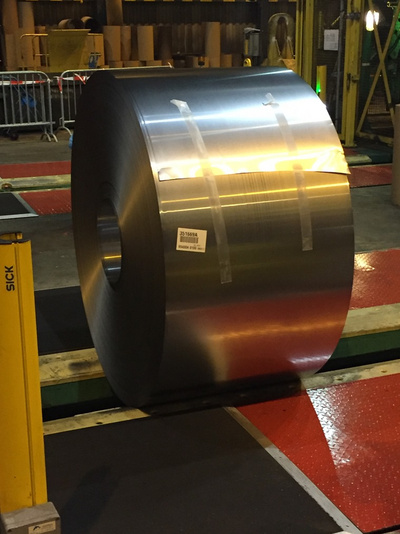 London, June 21, 2018
Primetals Technologies supplied new electrics and automation for continuous annealing line for Tata Steel Packaging IJmuiden
New control system makes annealing line fit for the next 20 years
Project was realized within 14 months from order to performance test
Recently, the continuous annealing line CA 12 at Tata Steel Packaging in IJmuiden, The Netherlands modernized by Primetals Technologies with new electric and automation equipment recommenced operations. The objectives of the modernization project were a one-to-one replacement of the existing control system, including Human-Machine-Interfaces (HMI) and motor drives with the aim to ensure proper operation of the annealing line for the next 20 years, which handles of about half of the annealing and secondary cold rolling capacity of Tata Steel Packaging. The project was realized within 14 months from order to performance test.
Primetals Technologies´ scope of supply encompassed the control system of the complete fully automated line, including entry section, strip cleaning, furnace and a two-stand 6-Hi temper mill, as well as the exit section with magnetic belt transfer. Additionally, 239 motor drives were supplied and 153 gear motors were exchanged. A separate safety control system was installed to replace the existing system.
A detailed final acceptance test (FAT) was performed during several weeks to ensure the proper operation of the new equipment and systems, and to validate the programming before prior to the actual shutdown. Operators were trained on the simulated automation platform. The complete equipment was installed and tested during a three week shutdown After production recommenced, a successful start-up curve back to the initial production level was achieved within three weeks.
The Packaging operations of Tata Steel in IJmuiden offers a comprehensive product portfolio of high performance steels for demanding can making operations Tata Steel's range of products includes tinplate, tin-free steels (ECCS), black plate, and the market leading Protact laminated steel, which in turn includes clean steels for drawing and ironing (D&I) can steel, high-strength formable steels for easy-open-ends and coated steels ideally suited to coil-fed can making operations. The annealing CA 12 line is designed for material thickness from 0.15 to 0.5 mm and a process speed of up to 600 m/min.
Protact is a registered trademark of Tata Steel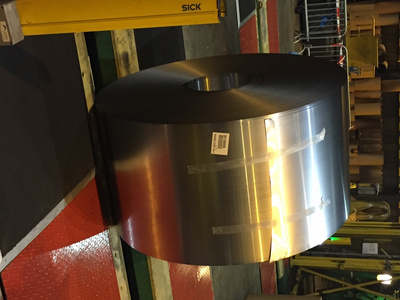 Coil processed on the continuous annealing line CA 12 of Tata Steel Packaging IJmuiden in The Netherlands, recently modernized with new electrics and automation by Primetals Technologies
Primetals Technologies, Limited, headquartered in Frimley, Camberley, United Kingdom, is a worldwide leading engineering, plant-building and lifecycle partner for the metals industry. The company offers a complete technology, product and service portfolio that includes the integrated electrics, automation and environmental solutions. This covers every step of the iron and steel production chain that extends from the raw materials to the finished product – in addition to the latest rolling solutions for the nonferrous metals sector. Primetals Technologies is a joint venture of Mitsubishi Heavy Industries (MHI) and Siemens. Mitsubishi-Hitachi Metals Machinery (MHMM) - an MHI consolidated group company with equity participation by Hitachi, Ltd. and IHI Corporation - holds a 51% stake and Siemens a 49% stake in the company. The company employs around 7,000 employees worldwide. Further information is available on the Internet at www.primetals.com.