---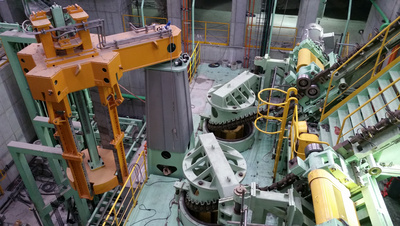 London, February 04, 2016
Primetals Technologies to supply combination mill for Chinese special stainless steel market leader Yongxing
Contract for new combination bar, bar in coil and wire rod mill in Huzhou, China
Will meet growing demand for higher grade stainless steel products
Production to begin early 2017
To expand into higher grade stainless products, Yongxing Special Stainless Steel Co., Ltd., has selected Primetals Technologies for the supply of a new combination bar, bar in coil and wire rod mill in Huzhou, China. The new mill will produce 250,000 tons per year of stainless valve steels, nickel-based alloy steel and several stainless grades, including austenitic, ferritic, dual phase and hardening steels, to satisfy customers seeking special grades for application in the aerospace, energy, medical, automotive and petroleum industries, among others.
The contract scope for the mill includes the provision of a Reversing Sliding Breakdown Mill and 14 Red Ring stand mill train; straight bar equipment, including cooling bed run-in table with brake slide, cooling bed, bar handling with hot saws and optical bar counting, bar bundling and binding system; bar In coil equipment, with pouring reels, coil quenching tanks, and coil handling with Rod Outlet; and rod outlet equipment, including a 680 shear, 10-Stand Morgan Vee No-Twist Mill, 4-Stand Morgan Reducing/Sizing Mill, Morgan Water Boxes, pinch roll, Morgan High Speed Laying Head, 4-Zone Morgan Stelmor Controlled Cooling Conveyor, stepless coil reforming station, vertical stem pallet coil handling system, vertical coil compactor, and an inline annealing furnace for wire rod products in parallel to the Stelmor.
When commissioned in late 2016, the mill will run at 62 tons per hour with a maximum speed of 80 meters per second, producing straight bar with diameters from 30 to 130 mm, bar in coil from 14 to 40 mm, and wire rod from 4.5 to 16 mm.
A top 500 private enterprise in China, Yongxing Special Stainless Steel Co., Ltd., specializes in the development and production of special stainless steel rod and wire, mainly used in petrochemical, basic energy, equipment manufacturing and other industrial fields. Located in Huzhou City, Zhejiang Province, it ranks first in the stainless steel bar market and controls more than half the total domestic shipments of duplex stainless steel long products.
No-Twist is a registered trademark of Primetals Technologies in some countries.
Two pouring reels and transfer mast for bar in coil products from Primetals Technologies
Primetals Technologies, Limited, headquartered in London, United Kingdom, is a worldwide leading engineering, plant-building and lifecycle partner for the metals industry. The company offers a complete technology, product and service portfolio that includes the integrated electrics, automation and environmental solutions. This covers every step of the iron and steel production chain that extends from the raw materials to the finished product – in addition to the latest rolling solutions for the nonferrous metals sector. Primetals Technologies is a joint venture of Mitsubishi Heavy Industries (MHI) and Siemens. Mitsubishi-Hitachi Metals Machinery (MHMM) - an MHI consolidated group company with equity participation by Hitachi, Ltd. and IHI Corporation - holds a 51% stake and Siemens a 49% stake in the company. The company employs around 9,000 employees worldwide. Further information is available on the Internet at www.primetals.com.