---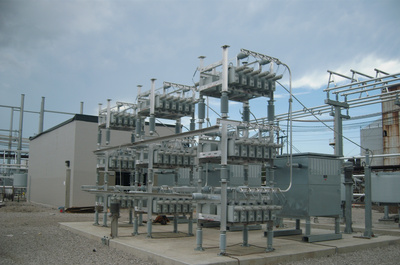 London, November 17, 2015
Primetals Technologies to supply receiving substation with SVC system for Frisa meltshop in Mexico
Meltshop system to enable local raw materials processing for special steel quality rings
Static Var Compensation system boosts reliability with thyristor-controlled reactor and light-triggered thyristor technology
Fast-track project for March 2016 start up
Global forgings manufacturer Frisa Forjados S.A. de C.V. recently awarded Primetals Technologies a multi-million dollar contract for the supply of a 230/34.5kV substation and a Static Var Compensation (SVC) system for their new meltshop in Villa de Garcia, Mexico. The meltshop will enable Frisa to locally process its own raw materials to produce special steel quality rings.
In this fast-track project, Frisa's decision to work with Primetals Technologies for the required technical solution and services recognized its longstanding relationship with the company and its predecessor organization. The integrated engineering solution includes a 230kV substation with dead tank circuit breakers, control and relay panels, metering equipment, power monitoring system, 34.5kV medium voltage switchgear and SVC system for a late first quarter 2016 startup. The project also requires on-site commissioning, service and staff training to operate the new system.
The SVC system consists of a Thyristor-Controlled Reactor (TCR) and Filter Circuits that will reduce the negative influence of arc furnace loads such as voltage destabilization, harmonic distortion, poor power factor and flicker. The design includes the Light-Triggered Thyristor (LTT) technology to provide higher reliability, fewer components and longer life expectancy.
Primetals Technologies closely coordinated with local vendors to deliver the 230kV equipment in compliance with LAPEM standards approved by the Federal Electricity Commission (Comisión Federal de Electricidad; CFE), a state-owned Mexican utility company.
Frisa is a global leading manufacturer of seamless rolled rings and open die forgings that serves a broad spectrum of industrial markets by offering high-value forging solutions through an extensive range of carbon, alloy and stainless steels, titanium and superalloys. With four locations in Mexico and one in the United States, the privately held company exports 95 percent of its production.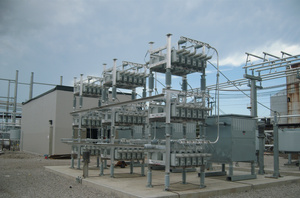 Substation with SVC system in building at left
Primetals Technologies, Limited, headquartered in London, United Kingdom, is a worldwide leading engineering, plant-building and lifecycle partner for the metals industry. The company offers a complete technology, product and service portfolio that includes the integrated electrics, automation and environmental solutions. This covers every step of the iron and steel production chain that extends from the raw materials to the finished product – in addition to the latest rolling solutions for the nonferrous metals sector. Primetals Technologies is a joint venture of Mitsubishi Heavy Industries (MHI) and Siemens. Mitsubishi-Hitachi Metals Machinery (MHMM) - an MHI consolidated group company with equity participation by Hitachi, Ltd. and IHI Corporation - holds a 51% stake and Siemens a 49% stake in the company. The company employs around 9,000 employees worldwide. Further information is available on the Internet at www.primetals.com.