---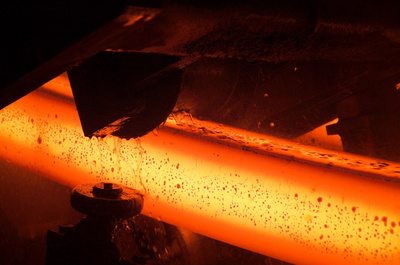 London, October 26, 2017
Star Wire (India) orders continuous billet/bloom caster from Primetals Technologies
Improved quality of cast products
Improved yield from liquid steel to ready-to-roll-products
Automatized thus controlled casting process
First continuous billet and bloom caster for extended steel grade mix worldwide
First application of soft reduction for long products in India
Indian steel producer Star Wire Ltd. has placed an order with Primetals Technologies to supply a continuous billet/bloom caster for its steel plant in Ballabgarh, Haryana State. The caster is designed for the production of 30,000 to 60,000 metric tons per year, depending on the steel grades cast. It complements the existing ingot casting route. Goals of the project are to further improve the quality of cast products as well as the yield of the production process from liquid steel to ready-to-roll products. The casting process will be fully automated. This is the first continuous billet and bloom caster for an extended steel grade mix worldwide. It also features the first application of dynamic soft reduction for long products in India. The billet/bloom caster is planned to be started-up in late 2018.
The new continuous billet/bloom caster will have a machine radius of 12 meters and a metallurgical length of 20 meters. It will produce square billets with dimensions of 145x145 and 195x195 millimeters, with provisions being made for the future production of larger cross sections up to 350x350 millimeters. It will cast a wide variety of steel grades, including austenitic and martensitic heat resistant steels, tool and die steels, ferritic, martensitic and austenitic stainless steels, and other special steels.
Primetals Technologies will be responsible for the basic, detail and process engineering, the complete supply of caster process equipment including technological structure, hydraulic system, subsystems like auto-torch cutting machines and similar equipment. Among the key features are the level 2 process automation and technological packages, like DiaMold mold, the DynaFlex mold oscillator, LevCon automatic mold-level control and DynaGap soft reduction including the Dynacs secondary cooling model. The stopper rod mechanism, roller units, the withdrawal straightening unit (WSU) and electromagnetic stirrers are also part of the order.
Star Wire (India) Ltd. is an EAF-based mini mill for special steel grades located in Ballabgarh, near Delhi. Currently, production proceeds via Ingot and ESR (electroslag remelting) routes. The product portfolio includes special steel rolled products and forged products, steel castings and forging quality ingot. Star Wire (India) Ltd produces alloy steels for local and international automobile sector, aerospace, power sector and engineering sectors. In addition, Star Wire (India) Ltd operates a foundry to produce alloyed and stainless castings weighing up to 80 metric tons, mainly for the power sector, e.g. turbine casings.
The project is jointly carried out by Primetals Technologies Austria GmbH and Concast (India) Ltd., a Primetals Technologies Group Company.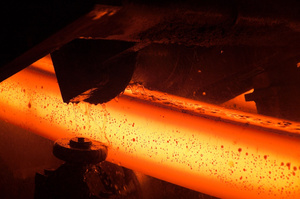 Reference image of a billet caster strand guide from Primetals Technologies
Primetals Technologies, Limited headquartered in London, United Kingdom is a worldwide leading engineering, plant-building and lifecycle services partner for the metals industry. The company offers a complete technology, product and service portfolio that includes integrated electrics, automation and environmental solutions. This covers every step of the iron and steel production chain, extending from the raw materials to the finished product – in addition to the latest rolling solutions for the nonferrous metals sector. Primetals Technologies is a joint venture of Mitsubishi Heavy Industries (MHI) and Siemens. Mitsubishi-Hitachi Metals Machinery (MHMM) - an MHI consolidated group company with equity participation by Hitachi, Ltd. and the IHI Corporation - holds a 51% stake and Siemens a 49% stake in the joint venture. The company employs around 7,000 employees worldwide. Further information is available on the Internet at www.primetals.com.