---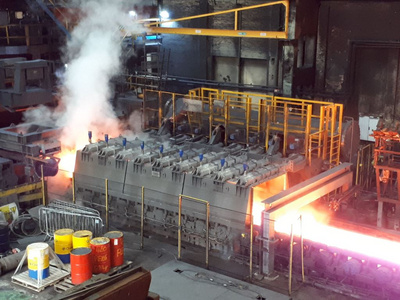 London, August 23, 2018
Transfer bar cooling system from Primetals Technologies commissioned at Tata Steel Port Talbot hot strip mill
Cooling system increases production capacity by approximately 150,000 metric tons of hot strip per year
Transfer bar cooling is based on Primetals Technologies´ Power Cooling
Recently, a transfer bar cooling system supplied by Primetals Technologies was commissioned in the hot strip mill of Tata Steel´s Port Talbot integrated steel plant located in South Wales, United Kingdom. The purpose of the cooling system, installed after the roughing mill, is the precise control of the strip temperature before it enters the finishing mill, without having to slow down the roughing mill. This results in an increase of production capacity by approximately 150,000 metric tons of hot strip per year. The system is based on Primetals Technologies´ Power Cooling technology. The order to install the transfer bar cooling system was awarded to Primetals Technologies April 2017.
The Power Cooling technology from Primetals Technologies is especially designed to reach highest cooling rates. This technology can be implemented as intensive cooling between the roughing and the finishing mill area. This leads to improved strip temperature control for increasing productivity. .

Tata Steel Port Talbot's hot strip mill has a nominal capacity of about 3.4 million metric tons of steel per year. The Port Talbot site is an integrated blast furnace based steel complex, which produces slabs, hot rolled, cold rolled and galvanized coils. The transfer bar cooling system installed after the roughing mill exit table employs a total of 18 spray headers in its initial configuration, nine top and nine bottom headers, and may be extended with additional headers at a later time. The total length of the transfer bar cooling system is approximately 10 meters. In order to cope with a large variety of steel grades and process requirements, especially the minimum surface temperature of the bar during cooling, the flow rates of the Power Cooling headers are adjustable over a wide range, so that a lower cooling intensity is also achievable as required for each individual product. Each header is flow-controlled by a separate ball segment valve.
In addition to the transfer bar cooling system itself, Primetals Technologies´ scope of supply encompassed the affected roller table, including motors, drives and transformers, an overhead tank, a booster pump station and a cross-spray pump station. Level 1 and level 2 automation as well as the interface to the existing hot strip mill automation system was also provided.
The transfer bar cooling technology was tested for the first time at voestalpine Stahl in Linz, Austria in 2003. The first industrial installation was set up at Thyssen Krupp Bruckhausen in Germany in 2013.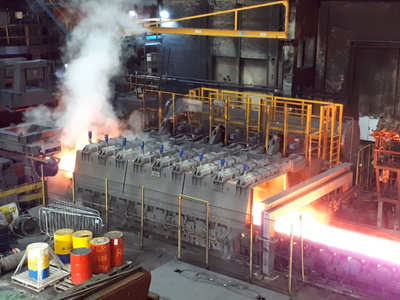 Transfer bar cooling system from Primetals Technologies installed at the hot strip mill of Tata Steel´s Port Talbot integrated steel plant located in South Wales, United Kingdom.
Primetals Technologies, Limited headquartered in London, United Kingdom is a worldwide leading engineering, plant-building and lifecycle services partner for the metals industry. The company offers a complete technology, product and service portfolio that includes integrated electrics, automation and environmental solutions. This covers every step of the iron and steel production chain, extending from the raw materials to the finished product – in addition to the latest rolling solutions for the nonferrous metals sector. Primetals Technologies is a joint venture of Mitsubishi Heavy Industries (MHI) and Siemens. Mitsubishi-Hitachi Metals Machinery (MHMM) - an MHI consolidated group company with equity participation by Hitachi, Ltd. and the IHI Corporation - holds a 51% stake and Siemens a 49% stake in the joint venture. The company employs around 7,000 employees worldwide. Further information is available on the Internet at www.primetals.com.