---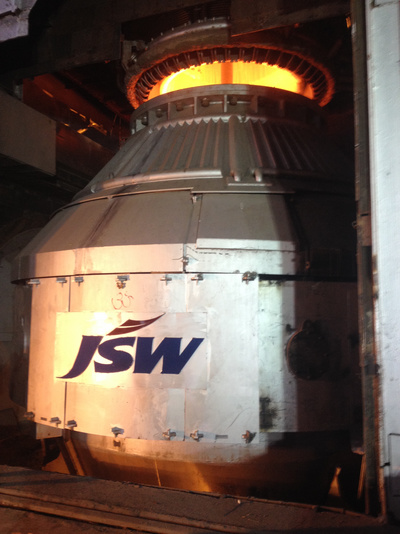 London, October 08, 2015
First LD (BOF) converter from Primetals Technologies started up at JSW Steel
First of four converters started up in September
Start-up went smoothly and the converter is in full production mode
Remaining converters will be consecutively replaced until spring 2016
High-temperature creep-resistant materials and a special cooling design ensure a long service life
Larger volume, less slopping
In mid-September a new LD (BOF) converter supplied by Primetals Technologies was started up in the Steel Melt Shop no. 2 in Vijayanagar, Toranagallu of Indian steelmaker Jindal South West Steel Ltd. (JSW Steel). Since then, the converter is in full production mode. It is part of an order received in September 2014 under which Primetals Technologies will exchange a total of four LD (BOF) converters. The converters are made of high-temperature creep-resistant steel. In conjunction with a combined air and water cooling system, this will achieve a long service life. The new converters will have a larger interior volume than the previously used models. This will reduce slopping. The remaining converters will be consecutively replaced until spring 2016.
JSW Steel is the leading steel producer in India with an installed capacity of 14.3 million metric tons of steel per annum. Of this total, ten million metric tons are produced alone by the Vijayanagar steel works in Toranagallu, in the State of Karnataka. On account of the high maintenance requirement of the existing LD converters in steel works no. 2, JSW Steel decided to replace them with new converters from Primetals Technologies.
Each converter will have a tapping weight of 180 metric tons. Primetals Technologies will supply the converter vessels, including the trunnion rings and suspension systems. All the converters will be equipped with bottom-stirring systems. The converters will be constructed of high-temperature creep-resistant materials in order to limit heat-related deformations. In conjunction with a specially designed, combined air and water cooling system, this will achieve not only a long service life but also reduce maintenance requirements. Each converter will have a water-cooled cone cooling system and air cooled trunnion ring. The scope of delivery will also include two new tilting drives, two sets new quick-change couplings for top blowing lances, and the complete basic automation (level 1) for the converters. Primetals Technologies will also be responsible for supervising the installation and commissioning, and will engineer the modifications required to the converter housings.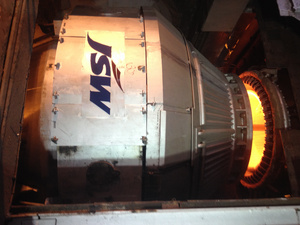 LD (BOF) converter from Primetals Technologies in the Steel Melt Shop no. 2 in Vijayanagar, Toranagallu, India of JSW Steel.
Primetals Technologies, Limited, headquartered in London, United Kingdom, is a worldwide leading engineering, plant-building and lifecycle partner for the metals industry. The company offers a complete technology, product and service portfolio that includes the integrated electrics, automation and environmental solutions. This covers every step of the iron and steel production chain that extends from the raw materials to the finished product – in addition to the latest rolling solutions for the nonferrous metals sector. Primetals Technologies is a joint venture of Mitsubishi Heavy Industries (MHI) and Siemens. Mitsubishi-Hitachi Metals Machinery (MHMM) - an MHI consolidated group company with equity participation by Hitachi, Ltd. and IHI Corporation - holds a 51% stake and Siemens a 49% stake in the company. The company employs around 9,000 employees worldwide. Further information is available on the Internet at www.primetals.com.