---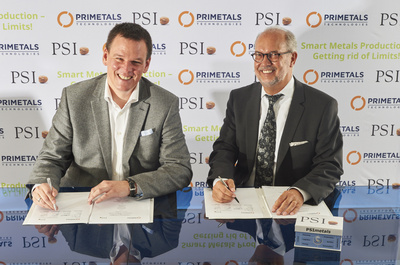 London, July 05, 2016
Industry 4.0 from a single source: Primetals Technologies and PSI cooperate on production management solutions for steel industry
Strategic alliance combines process automation with production management
Customers receive finely tuned complete solution from a single source
Goals: Implementation of PSI solutions in plants with equipment from Primetals Technologies as well as modernizations and new plants
Primetals Technologies , Erlangen, and PSI Metals GmbH, Düsseldorf, have signed a cooperation agreement on the sale and implementation of Industry 4.0 (Industrial Internet) production management solutions for the steel and aluminum industries. Customers receive perfectly matched, tailor-made complete solutions from a single source consisting of equipment, basic automation (level 1) and process automation (level 2) from Primetals Technologies, and the PSImetals production management solution (level 3) from PSI. The exclusive global cooperation agreement covers plants with equipment and automation from Primetals Technologies, as well as complete turnkey solutions for modernization projects and new plants throughout the entire supply chain.
The harmonized solutions from the two companies reduce integration costs, shorten project runtimes and simplify IT processes. Horizontal integration of locally distributed automation data with system-wide production management for Supply-Chain-Planning & Execution (MES) makes it easier to identify and realize the potential of Industry 4.0.
Detlef Schmitz, Managing Director at PSI, said, "For tomorrow's production management, we offer our customers complete integrated solutions, which increase the potential for optimizing production processes and the associated business processes throughout the entire process chain." Hans-Jürgen Zeiher, Head Electrics and Automation at Primetals Technologies, added, "As a leading technology provider of plant engineering, basic and process automation, as well as digital production, we are firmly convinced that together we can make a major contribution to digitalization and the associated improvements in productivity and quality, and toward more flexible production."
PSI Metals is a leading provider of production management solutions, whereas Primetals Technologies is a leader in mechanical and electrical equipment as well as basic and process automation. Taken together, the two companies have already successfully realized more than 2,300 projects. In future, around 450 automation and IT experts will be working on offering steelmakers end-to-end solutions for optimizing production processes. Thanks to the combined network of the two partners, experts in project implementation and plant and solution services are available close to customers throughout the world.
Hans-Jürgen Zeiher, Head Electrics and Automation at Primetals Technologies (l.) and Detlef Schmitz, Managing Director at PSI, sign a cooperation agreement on the sale and implementation of Industry 4.0 solutions (production management) for the steel and aluminum industries.
PSI Metals is the leading supplier for production management solutions in the metals industry combining SCM, APS and MES to optimize production and logistics. For more than 40 years, we have been delivering added value solutions to maximize the plant performances of numerous metal producers around the globe. www.psimetals.com
On the basis of its own software products, PSI AG develops and integrates complete solutions for energy management (gas, oil, electricity, heat, energy trading), production management (mining, metals, automotive, mechanical engineering, logistics) and infrastructure management for transport and safety. PSI was founded in 1969 and employs 1,650 persons worldwide. www.psi.de
Primetals Technologies, Limited, headquartered in London, United Kingdom, is a pioneer and world leader in the fields of engineering, plant building, and the provision of lifecycle services for the metals industry. The company offers a complete technology, product, and services portfolio that includes integrated electrics and automation, digitalization, and environmental solutions. This covers every step of the iron and steel production chain—from the raw materials to the finished product—and includes the latest rolling solutions for the nonferrous metals sector. Primetals Technologies is a joint venture of Mitsubishi Heavy Industries and partners, with around 7,000 employees worldwide. To learn more about Primetals Technologies, visit the company website www.primetals.com.