---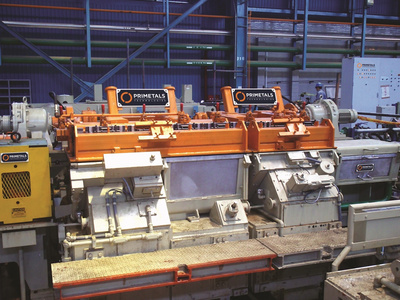 London, September 04, 2018
Primetals Technologies to build wire rod mill for Indian company JSW Steel
Expands capacity with new plant
Mill design features new stepless reform
Late 2019 start-up expected
To keep up with growing market demand, JSW Steel Limited has signed a contract with Primetals Technologies for the supply and installation of a two-strand wire rod mill. The third mill purchased from Primetals Technologies, JSW Steel previously installed a single-strand wire rod mill and a bar mill. The new mill will be built in Toranagallu, India. Start-up is expected at the end of 2019.
Primetals Technologies will supply the complete wire rod mill with all mechanical and electrical equipment for two-strand production from a single stand roughing mill. Two independent rolling lines will then join at the coil handling area for further compacting and unloading. Among other Morgan-branded equipment, the mill includes a new design of individually driven pre-finishing mill that eliminates the need for uploopers, a faster cooling nozzle clamping and unclamping method for shorter change times, the latest generation 6 Morgan High Speed Laying Head with SR Series pipe technology, and a recently patented stepless reform design.
The contract also includes site supervision and spare parts. Designed for a guaranteed maximum speed of 115 meters per second, the mill will run at 220 tons per hour for an annual capacity of 1.2 million metric tons of wire rod per year.
JSW Steel, based in Mumbai, India, is a leading integrated steel manufacturer in India with a capacity of 18 million metric tons per year. Owned by JSW Group, JSW Steel was founded in 1994 and exports its products to more than 100 countries on five continents. The company produces hot-rolled coils, cold-rolled steel for the automotive industry, color-coated products, galvanized steel, rebar, wire rod and special alloy steel.
SR Series is a registered trademark of Primetals Technologies, Limited in certain countries.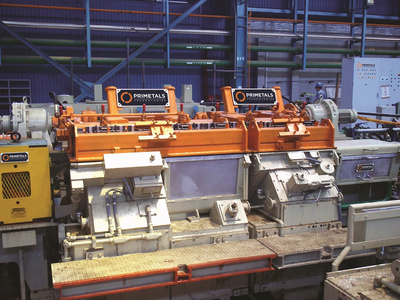 A Morgan Reducing/Sizing Mill is included in the new contract with JSW Steel
Primetals Technologies, Limited headquartered in London, United Kingdom is a worldwide leading engineering, plant-building and lifecycle services partner for the metals industry. The company offers a complete technology, product and service portfolio that includes integrated electrics, automation and environmental solutions. This covers every step of the iron and steel production chain, extending from the raw materials to the finished product – in addition to the latest rolling solutions for the nonferrous metals sector. Primetals Technologies is a joint venture of Mitsubishi Heavy Industries (MHI) and Siemens. Mitsubishi-Hitachi Metals Machinery (MHMM) - an MHI consolidated group company with equity participation by Hitachi, Ltd. and the IHI Corporation - holds a 51% stake and Siemens a 49% stake in the joint venture. The company employs around 7,000 employees worldwide. Further information is available on the Internet at www.primetals.com.