---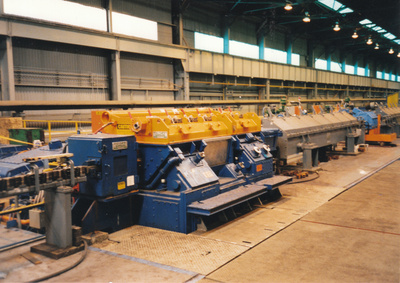 London, July 12, 2016
Kobelco Millcon Steel modernizes wire rod mill with Primetals Technologies equipment
Upgrades to expand local supply of special steel products
Speed increases with new mill stand gear drives, water box, pinch roll/laying head upgrades
New Morgan Reducing Sizing Mill supplied with quick change feature
To increase its local supply of special steel products, Kobelco Millcon Steel Co., Ltd. is modernizing a wire rod mill in Rayong, Thailand with equipment supplied by Primetals Technologies. When completed in May 2017, the Thailand mill will supply steel rods for automotive parts. Upgrades to the mill include new mill stand gear drives, water boxes, pinch rolls and laying heads and the latest design stepless reform. In addition, Primetals Technologies will install a Morgan Reducing Sizing Mill (RSM) with a quick change feature to produce thermomechanically rolled (TMR) products and improve tolerances, mechanical properties and coil packages. Speed guarantees for the 480,000 ton per year mill will be 110 m/s, with a maximum rolling rate of up to 120 tons per hour.
Previously owned by Thai Special Steel Industry (TSSI), this asset of TSSI was purchased by Millcon Steel Industries in 2014. Designed for cold heading quality (CHQ) products, the TSSI mill was originally supplied in 1998 by the former Morgan Construction Company, now owned by Primetals Technologies, which recommissioned it for Millcon in 2015.
Kobelco Millcon Steel Co., Ltd. is a joint venture of Japanese steel supplier Kobe Steel, Ltd. and rebar and construction supplier Millcon Steel Public Company Limited of Thailand, established in February 2016 to serve as a production base for wire rods. Kobe Steel is supporting the production, technology and marketing of special wire rod for the joint venture.
Founded in 1905, Kobe Steel is one of Japan's leading steelmakers, as well as a major supplier of aluminum and copper products. Other business segments consist of wholesale power supply, machinery, construction machinery, real estate, and electronic materials and other businesses.
Prior to the joint venture, Millcon Special Steel Co. was a subsidiary of Millcon Steel Public Company Limited, a manufacturer and distributor of steel products in Thailand first incorporated in 1998. It supplies the construction, furniture and automotive spare parts industries.
Primetals Technologies, Limited headquartered in London, United Kingdom is a worldwide leading engineering, plant-building and lifecycle services partner for the metals industry. The company offers a complete technology, product and service portfolio that includes integrated electrics, automation and environmental solutions. This covers every step of the iron and steel production chain, extending from the raw materials to the finished product – in addition to the latest rolling solutions for the nonferrous metals sector. Primetals Technologies is a joint venture of Mitsubishi Heavy Industries (MHI) and Siemens. Mitsubishi-Hitachi Metals Machinery (MHMM) - an MHI consolidated group company with equity participation by Hitachi, Ltd. and the IHI Corporation - holds a 51% stake and Siemens a 49% stake in the joint venture. The company employs around 7,000 employees worldwide. Further information is available on the Internet at www.primetals.com.