---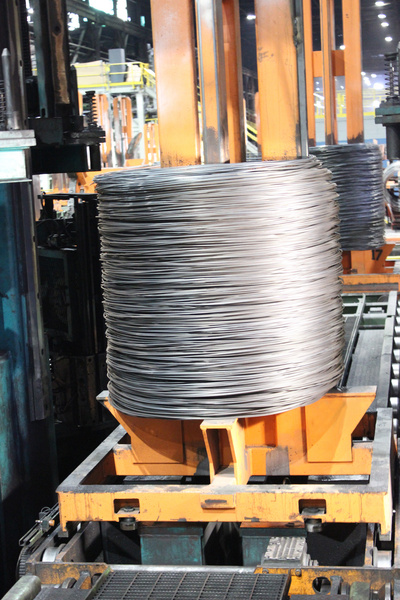 London, December 17, 2015
Nucor Nebraska selects Primetals Technologies to upgrade coil handling system
Replacement system to improve quality of bar-in-coil products
New product applications to expand markets for combination mill
Contract includes mechanical and electrical engineering innovations
The combination bar-in-coil and rod mill at Nucor Nebraska will have upgraded coil handling equipment designed and installed by Primetals Technologies in September 2016. The plant, located in Norfolk, Nebraska, annually produces 900,000 tons of long products for several markets such as agriculture, heavy equipment, industrial machinery, construction, oil and gas, rail and automotive. The new equipment will improve the cooling process to produce higher quality steel rods for expanded Nucor customer markets.
The contract scope includes the supply of a continuously rotating shear, coil receiving equipment with a coil plate, pallet system conveyor, transfer and cooling equipment, automation for all new equipment and an updated automation system for Nucor's existing pallet system and compactor, and installation and commissioning supervision. Nucor has been a longstanding customer of Primetals Technologies, which most recently upgraded a pinch roll, laying head and reform tub in the Norfolk mill's rod outlet.
A Fortune 500 company, Nucor is the largest manufacturer of steel products in North America, with approximately 200 operating facilities, including wholly owned subsidiaries Harris Steel, The David J. Joseph Company, and Skyline Steel, producing more than 21.1 million tons per year. Products include: carbon and alloy steel -- in bars, beams, sheet and plate; steel piling; steel joists and joist girders; steel deck; fabricated concrete reinforcing steel; cold finished steel; steel fasteners; metals building systems; steel grating and expanded metal; and wire and wire mesh. Nucor is North America's largest recycler.
Vertical stem pallet system from Primetals Technologies
Primetals Technologies, Limited, headquartered in London, United Kingdom, is a worldwide leading engineering, plant-building and lifecycle partner for the metals industry. The company offers a complete technology, product and service portfolio that includes the integrated electrics, automation and environmental solutions. This covers every step of the iron and steel production chain that extends from the raw materials to the finished product – in addition to the latest rolling solutions for the nonferrous metals sector. Primetals Technologies is a joint venture of Mitsubishi Heavy Industries (MHI) and Siemens. Mitsubishi-Hitachi Metals Machinery (MHMM) - an MHI consolidated group company with equity participation by Hitachi, Ltd. and IHI Corporation - holds a 51% stake and Siemens a 49% stake in the company. The company employs around 9,000 employees worldwide. Further information is available on the Internet at www.primetals.com.