---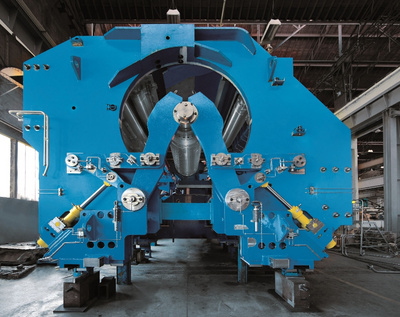 London, February 28, 2019
Nucor Steel Tuscaloosa selects Primetals Technologies for plate mill upgrades
Upgrades to plate mill include a new Power Coiler and Level 1 automation system upgrade
Supplied equipment will enable Nucor to produce heavier line pipe gauges
Project completion scheduled for first quarter of 2020
Nucor Steel Tuscaloosa, Inc. has selected Primetals Technologies to upgrade its plate mill in Alabama, USA. The upgrade includes a new downcoiler of the Power Coiler type with four wrapper roll design, which will enable this facility to produce heavier line pipe gauges for the energy industry. The project is scheduled for completion in the first quarter of 2020.
The downcoiler is capable of handling 1.25-inch-thick low-carbon-grade steel and 1-inch-thick line pipe grades, at up to 102 inches wide. The scope of supply also includes runout tables, new coil handling area, inspection line with shear, hydraulics, banders, markers and an upgrade to the Level 1 automation system.
Nucor Steel Tuscaloosa, Inc. is one of three plate mills operated by Nucor Corporation ("Nucor"), which produce plate for manufacturers of barges, bridges, heavy equipment, tanks, ships, wind towers and other items. Nucor's production capabilities and the mix of plate products marketed, the capacity of the plate mills is estimated at approximately 2,825,000 tons per year. Nucor and its affiliates are manufacturers of steel products, with operating facilities primarily in the US and Canada. Products produced include: carbon and alloy steel – in bars, beams, sheet and plate; hollow structural section tubing; electrical conduit; steel piling; steel joists and joist girders; steel deck; fabricated concrete reinforcing steel; cold finished steel; steel fasteners; metal building systems; steel grating; and wire and wire mesh. Nucor, through The David J. Joseph Company, also brokers ferrous and nonferrous metals, pig iron and HBI/DRI; supplies ferro-alloys; and processes ferrous and nonferrous scrap. Nucor is North America's largest recycler.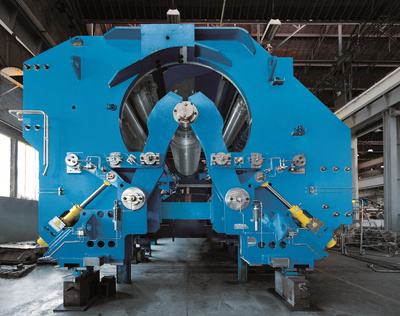 Power coiler by Primetals Technologies coils heavy-gauge and high-strength steels
Primetals Technologies, Limited headquartered in London, United Kingdom is a worldwide leading engineering, plant-building and lifecycle services partner for the metals industry. The company offers a complete technology, product and service portfolio that includes integrated electrics, automation and environmental solutions. This covers every step of the iron and steel production chain, extending from the raw materials to the finished product – in addition to the latest rolling solutions for the nonferrous metals sector. Primetals Technologies is a joint venture of Mitsubishi Heavy Industries (MHI) and Siemens. Mitsubishi-Hitachi Metals Machinery (MHMM) - an MHI consolidated group company with equity participation by Hitachi, Ltd. and the IHI Corporation - holds a 51% stake and Siemens a 49% stake in the joint venture. The company employs around 7,000 employees worldwide. Further information is available on the Internet at www.primetals.com.