---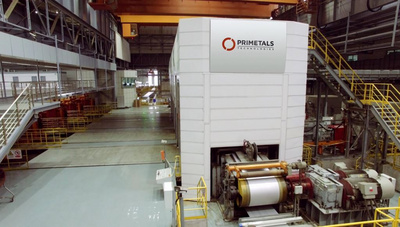 London, June 19, 2018
Primetals Technologies expands condition monitoring system for Tangshan Iron & Steel
Existing condition monitoring system from Primetals Technologies will be expanded to include two new continuous galvanizing lines
Condition monitoring increases plant availability and reduces maintenance costs
System helps maintain consistently high product quality
Important step towards Industry 4.0
Condition monitoring information is available from all equipment in one system
Tangshan Iron and Steel Group Co. Ltd., a Chinese steel producer, has awarded Primetals Technologies an order to further expand the existing condition monitoring system (CMS), which was also implemented by Primetals Technologies, in cold rolling mill no. 2 at its Tangshan plant in Hebei Province. In future, the expanded system will also be used for the condition monitoring of two new continuous galvanizing lines supplied by Primetals Technologies. Since 2017 the CMS has been monitoring an existing galvanizing line, a continuous annealing line and a coupled tandem pickling line in cold rolling mill no. 2, as well as a hot strip mill. The CMS is intended to increase the availability of the plant, reduce maintenance costs, help to optimize production planning, and provide a consistently high product quality. With cross-plant condition monitoring, Tangshan is taking an important step towards Industry 4.0 and to technological leadership in the field of predictive maintenance. The expanded CMS is scheduled to come into operation at the end of 2018.
The CMS monitors not only the mechanical equipment but also the mechatronic systems and technological controls, process models and third-party systems. For the expansion of the condition monitoring system, Primetals Technologies will supply sensor packages, servers and special software packages. These include over a hundred permanently installed and mobile packages to measure and analyze vibrations, packages for fast connections to local CPUs, and packages for monitoring the roller tables and data from the basic automation (Level 1). The collected data is available centrally in a maintenance center, at operator stations or for remote access. An interface to the Enterprise Resource Planning (ERP) system for machine data synchronization, work orders and feedback from maintenance activities was also implemented.
Tangshan Iron and Steel is part of the HBIS Group Co., Ltd., China´s largest steel producer with an annual production of over 46 million metric tons in 2016. The Tangshan production site has been in operation for over 70 years. In recent years, Primetals Technologies has supplied an AOD converter, a vacuum decarburization plant and a continuous galvanizing line to Tangshan, and also coupled the tandem cold rolling mill to the existing pickling line.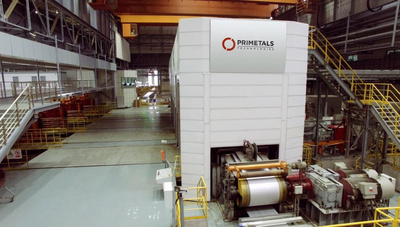 Cold rolling mill from Primetals Technologies at the Tangshan Iron and Steel Group Co. Ltd.
Primetals Technologies, Limited headquartered in London, United Kingdom is a worldwide leading engineering, plant-building and lifecycle services partner for the metals industry. The company offers a complete technology, product and service portfolio that includes integrated electrics, automation and environmental solutions. This covers every step of the iron and steel production chain, extending from the raw materials to the finished product – in addition to the latest rolling solutions for the nonferrous metals sector. Primetals Technologies is a joint venture of Mitsubishi Heavy Industries (MHI) and Siemens. Mitsubishi-Hitachi Metals Machinery (MHMM) - an MHI consolidated group company with equity participation by Hitachi, Ltd. and the IHI Corporation - holds a 51% stake and Siemens a 49% stake in the joint venture. The company employs around 7,000 employees worldwide. Further information is available on the Internet at www.primetals.com.