---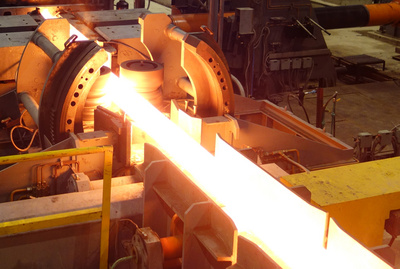 London, March 22, 2017
Primetals Technologies to modernize special section rolling mill of VÚHŽ in the Czech Republic
Production capacity will increase from 8,000 to 12,000 metric tons per year
Larger billet with square sizes up to 150 mm can be processed
VÚHŽ a.s., a 100% subsidiary of Czech steel producer Třinecké železárny a.s., has placed an order with Primetals Technologies to modernize the company´s special section rolling mill at its production site in Dobrá, Czech Republic. The aim of the modernization project is to increase the production capacity for special sections from 8,000 to 12,000 metric tons per year. In future, it will also be possible to process square billets with larger sizes up to 150 mm. The modernized section mill is due to be commissioned in the fourth quarter of 2017.
Within the scope of the modernization project, Primetals Technologies will retrofit the existing roughing stand with new automatic bar manipulation systems at both the entry and the exit side, so that bars can be automatically rotated and moved to the desired position between two subsequent rolling passes. In addition, a new RR 458 Red Ring finishing reversing sliding stand will be installed, featuring a barrel length of 1,100 mm and a roll maximum working diameter of 580 mm. The finishing stand comes with a state-of-the-art concept for roll change operations, which facilitates changing and setting rolls within 30 minutes. The existing cooling bed will receive an automatic band sawing system, for bar cutting to lengths ranging from 3 to 12 m.
Primetals Technologies will also supply the fluid system, the MV power equipment, including MV/LV transformers, drives and motors, the field (level 0) and basic (level 1) automation and auxiliary systems, and will supervise erection and commissioning.
VÚHŽ a.s. is a small-lot producer of niche-market components including special rolled sections, like fine simple or double profiles mostly for the automotive industry. VÚHŽ a.s. has its roots in a state-owned steel research institute founded in 1948 and is now wholly owned by Třinecké železárny, with some 2.5 million metric tons of steel per year the largest steel producer in the Czech Republic. Primetals Technologies and Třinecké železárny have already completed a number of joint projects in the past, including the construction of de-dusting systems, the modernization of a wire and bar line, and the installation of an outlet for bar-in-coil.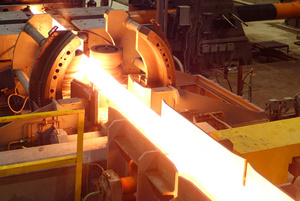 Example of an automatic bar manipulator of a section mill from Primetals Technologies.
Primetals Technologies, Limited headquartered in London, United Kingdom is a worldwide leading engineering, plant-building and lifecycle services partner for the metals industry. The company offers a complete technology, product and service portfolio that includes integrated electrics, automation and environmental solutions. This covers every step of the iron and steel production chain, extending from the raw materials to the finished product – in addition to the latest rolling solutions for the nonferrous metals sector. Primetals Technologies is a joint venture of Mitsubishi Heavy Industries (MHI) and Siemens. Mitsubishi-Hitachi Metals Machinery (MHMM) - an MHI consolidated group company with equity participation by Hitachi, Ltd. and the IHI Corporation - holds a 51% stake and Siemens a 49% stake in the joint venture. The company employs around 7,000 employees.