---
London, August 02, 2018
Primetals Technologies to revamp continuous billet caster of Feralpi Siderurgica in Italy
Production capacity will be increased by 10 percent to 1.2 million metric tons per year
Billet cross section to be raised to 150 x 150 millimeters with predisposition for 160 x 160 millimeters
Plant availability will be increased
Feralpi Siderurgica S.p.A., part of the Italian Feralpi Group, placed an order with Primetals Technologies to revamp the six-strand billet caster in its Lonato del Garda works in Italy. The aims of the project are to increase production capacity from 1.1 to 1.2 million metric tons of billets per year, to produce billets with a larger square cross section of 150 x 150 millimeters with predisposition for cross section of 160 x 160, millimeters, and to improve plant availability. Start-up of the revamped casting machine is scheduled for early 2019.
The six-strand billet caster of Feralpi Siderurgica in Lonato del Garda in the Brescia Province, currently has an installed annual capacity of 1,1 million metric tons of billets with a square cross sections of 140 x 140 millimeters. It produces medium carbon, carbon and low alloyed steels for the construction industry. Within the revamping project, the casting machine will be equipped with a new DiaMold high-speed casting molds for billet casters, characterized by tapered mold tubes and open bottom-mold corners to reduce strand friction. The DynaFlex hydraulic oscillator with online and flexible adjustment of the mold-oscillation parameters serves to improve strand-surface quality. The scope of supply also includes a new secondary cooling and a dummy bar head. Primetals Technologies will be responsible for the basis, detail engineering and supply of the above components.
Feralpi Group is one of the most important steel suppliers to the Italian construction industry. The group operates four subsidiary companies in Italy and runs production and sales locations in Europe and North Africa. Feralpi Siderurgica was founded in 1968 and is thus the oldest member of the Feralpi Group. The company is today one of the leading suppliers of reinforcing steel, wire rod, reinforcement meshes and the associated derivatives in Italy.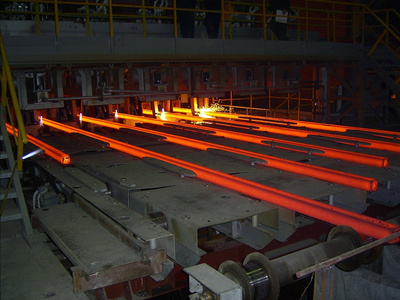 Six-strand continuous billet caster to be modernized by Primetals Technologies in the Lonato del Garda, Italy works of Feralpi Siderurgica
Primetals Technologies, Limited headquartered in London, United Kingdom is a worldwide leading engineering, plant-building and lifecycle services partner for the metals industry. The company offers a complete technology, product and service portfolio that includes integrated electrics, automation and environmental solutions. This covers every step of the iron and steel production chain, extending from the raw materials to the finished product – in addition to the latest rolling solutions for the nonferrous metals sector. Primetals Technologies is a joint venture of Mitsubishi Heavy Industries (MHI) and Siemens. Mitsubishi-Hitachi Metals Machinery (MHMM) - an MHI consolidated group company with equity participation by Hitachi, Ltd. and the IHI Corporation - holds a 51% stake and Siemens a 49% stake in the joint venture. The company employs around 7,000 employees worldwide. Further information is available on the Internet at www.primetals.com.