---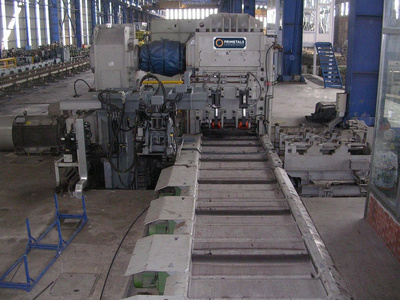 London, October 30, 2018
Primetals Technologies to upgrade Texas steel mill
Upgrades equipment and improves product packaging
Enables mill to handle lengths up to 80 feet
Early 2020 start-up expected
Vinton Steel LLC of Vinton, Texas, has signed a contract with Primetals Technologies for an upgrade of its bar mill. The upgrade will enable Vinton to reduce delays, increase productivity, improve bundle quality, and enable the mill to handle bar up to 80-foot lengths. Start-up is expected for early 2020.
The project consists of a complete bar handling arrangement from cold shear to product unloading, which includes a 660 short ton cold shear, cold shear run-out table, gauge beam, short bar handling system, bar counting equipment, bundle forming equipment, bundle tying and bundle storage. In addition, Primetals Technologies will supply an optical bar counter with positional layer separation, electrical equipment, automation and installation engineering.
Vinton Steel LLC is a 300,000 short tons per year mini-mill that uses EAF technology to produce various lengths of rebar in sizes from #4 to #18 for the construction industry. It also produces smooth rounds to manufacture grinding balls for the mining industry in sizes that vary from 1-1/2-inch to 4 inches in diameter. Founded in 1962, the company was acquired in December 2016 by Kyoei Steel Ltd. of Japan, who is a leading international group in mini-mills.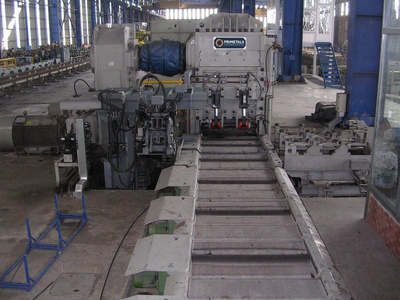 Cold shear and roller table for bar mill from Primetals Technologies
Primetals Technologies, Limited headquartered in London, United Kingdom is a worldwide leading engineering, plant-building and lifecycle services partner for the metals industry. The company offers a complete technology, product and service portfolio that includes integrated electrics, automation and environmental solutions. This covers every step of the iron and steel production chain, extending from the raw materials to the finished product – in addition to the latest rolling solutions for the nonferrous metals sector. Primetals Technologies is a joint venture of Mitsubishi Heavy Industries (MHI) and Siemens. Mitsubishi-Hitachi Metals Machinery (MHMM) - an MHI consolidated group company with equity participation by Hitachi, Ltd. and the IHI Corporation - holds a 51% stake and Siemens a 49% stake in the joint venture. The company employs around 7,000 employees worldwide. Further information is available on the Internet at www.primetals.com.