---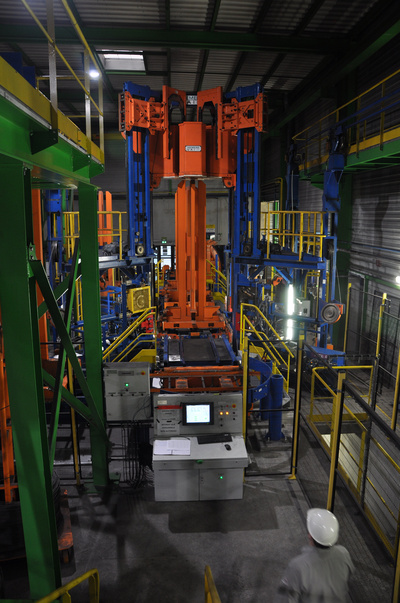 London, January 14, 2016
Coil Handling and Compactor system from Primetals Technologies for French stainless steel mill receives FAC
New system automatically loads coil onto vertical compacting system
Novel approach ensures denser coils
New unloading station design
French stainless steel wire rod producer Ugitech has awarded the final acceptance certificate to Primetals Technologies for its custom engineering solution to upgrade and automate the compacting and coil handling process in the company's rod mill, which recently achieved all performance goals.
The upgrade for its stainless steel rod mill in Ugine, France includes a new vertical compactor and unloading station design which allows the automatic loading of loose coils from a floor mounted cradle onto a vertical compacting system, replacing a former manually operated secondary processing system. The previous horizontal compacting system was slow as well as ineffective and did not provide the necessary coil package for efficient downstream processing. The novel solution also includes a special feature located after the shot blast process, which delivers a denser coil package prior to compacting. The system is fully automatic without a dedicated operator, where fork truck drivers simply drop off loose coils at a loading station and pick up compacted coils from an unloading station.
The new system processes a 1.1 ton coil scratch-free with four wire tie bindings every two minutes with a variable compactor force range of 2 to 20 tons.
Ugitech produces and sells a wide range of stainless steel long products, more than 200,000 tons annually, including bars, wire rods and wires. Part of the Schmolz + Bickenbach Group, the world's largest manufacturer, processor and distributor of special steel long products, Ugitech has seven producing and processing plants in France, Italy and Germany.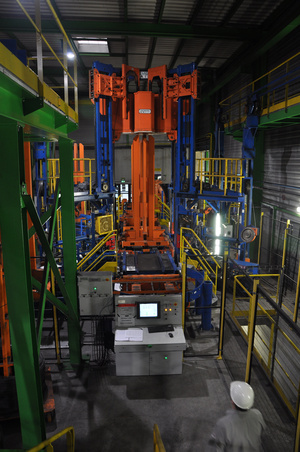 Vertical Compactor system from Primetals Technologies
Primetals Technologies, Limited, headquartered in London, United Kingdom, is a worldwide leading engineering, plant-building and lifecycle partner for the metals industry. The company offers a complete technology, product and service portfolio that includes the integrated electrics, automation and environmental solutions. This covers every step of the iron and steel production chain that extends from the raw materials to the finished product – in addition to the latest rolling solutions for the nonferrous metals sector. Primetals Technologies is a joint venture of Mitsubishi Heavy Industries (MHI) and Siemens. Mitsubishi-Hitachi Metals Machinery (MHMM) - an MHI consolidated group company with equity participation by Hitachi, Ltd. and IHI Corporation - holds a 51% stake and Siemens a 49% stake in the company. The company employs around 9,000 employees worldwide. Further information is available on the Internet at www.primetals.com.