---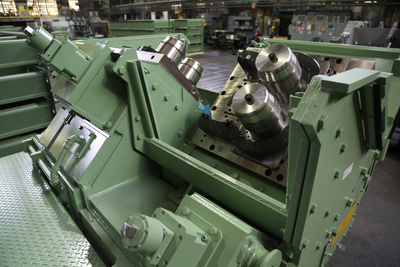 London, July 28, 2016
Primetals Technologies ships highest capacity roll unit for Chinese wire rod mill
Highest capacity available for high speed finishing stands
New roll unit has 40-long ton (394 kN) separating force
Rolls at low temperatures and high speeds
​Primetals Technologies has produced the market's highest capacity 250 mm ultra heavy-duty (UHD) roll unit for high speed wire rod mills in the first phase of a high speed wire rod mill upgrade for a major Chinese steel producer. The new roll unit, shipped in May from the company's manufacturing center in Worcester, Massachusetts, USA, will be used as a finishing block in its mill.
As a high speed finishing stand, the new roll unit's 394 kN (40 long ton) separating force allows the customer to roll larger sizes at lower temperatures, enabling thermomechanical rolling in the wire rod mill at temperatures as low as 750°C. The mill is designed to roll at speeds up to 120 m/s and can roll sizes up to 28 mm in diameter. This is the first major modernization of a rolling mill originally supplied in the late 1990s by Morgan Construction, a predecessor company of Primetals Technologies.
Primetals Technologies, Limited headquartered in London, United Kingdom is a worldwide leading engineering, plant-building and lifecycle services partner for the metals industry. The company offers a complete technology, product and service portfolio that includes integrated electrics, automation and environmental solutions. This covers every step of the iron and steel production chain, extending from the raw materials to the finished product – in addition to the latest rolling solutions for the nonferrous metals sector. Primetals Technologies is a joint venture of Mitsubishi Heavy Industries (MHI) and Siemens. Mitsubishi-Hitachi Metals Machinery (MHMM) - an MHI consolidated group company with equity participation by Hitachi, Ltd. and the IHI Corporation - holds a 51% stake and Siemens a 49% stake in the joint venture. The company employs around 7,000 employees worldwide. Further information is available on the Internet at www.primetals.com.