---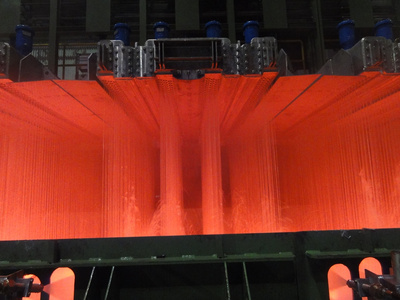 London, May 22, 2018
Primetals Technologies to modernize hot strip mill "HSM 2000" of Severstal in Cherepovets
Width control, thickness tolerances and overall product quality is improved
Production of high-end grades is made more efficient, saving alloys, using Power Cooling
New components improve product performance, operational and workplace safety
Level 2 process control with physical process models provide high degree of automation
Primetals Technologies has received an order from Russian steel producer PAO Severstal to modernize the company´s hot strip mill "HSM 2000" in its Cherepovets steel works. Main targets are to improve tolerances of product width and thickness control as well as to improve overall production quality for further processing and efficient production of new products. Also, operational safety and working conditions will be improved. To these ends, an edger of the hot strip mill will be upgraded, short stroke HAGC (hydraulic gap control cylinders) will be installed in the finishing mill, and the cooling line will be outfitted with a Power Colling unit. The latter allows for an alloy-saving production of high-end steel grades. In addition, a Primetals Technologies level 2 control model consisting of physical process models with advanced optimization strategies and neural network algorithms for adaptation will be installed.
Severstal Russian Steel Division is a part of PAO Severstal, a vertically integrated steel and steel-related mining company with major assets in Russia as well as investments in other regions. Steel production volume of PAO Severstal in 2017 was around 11.65 million metric tons of liquid steel. The steel is used to make a large number of end products, including hot- and cold-rolled flat steel, galvanized and coated products, and long products. At the "HSM 2000", Primetals Technologies will install new mechanic, hydraulic and electric equipment and implement the corresponding automation solutions and process models.
To improve strip thickness control in addition to the existing mechanical screw down system, short stroke hydraulic gap setting cylinders will be implemented in the first three stands (F6 to F8) of the finishing mill. The technological key functions will be replaced with the latest state of the art control algorithms. The existing level 2 system will be upgraded to extend lifetime and include present technological models. Profile and flatness control models will be added as new functions.
The cooling section will be controlled by an entirely new automation system, ensuring the correct cooling strategy and cooling path as defined by the coiling temperature and the cooling rate is followed. Strip temperature tracking already starts at the roughing mill exit. A Comprehensive Temperature Control will be supplied for coordinated control of finishing mill speed, inter-stand cooling and coiling temperature. The cooling section control includes intelligent water management to cope with the highly dynamic requirements of large water flow rates. The run-out roller table downstream from the finishing mill conveys the strip through the laminar cooling line to the down coiler groups 1 and 2. In cooling section 1, right after the finishing mill, a new Power Cooling system will be installed. Also, the laminar cooling headers in this section will be renewed. In section 2, only the trimming headers will be replaced.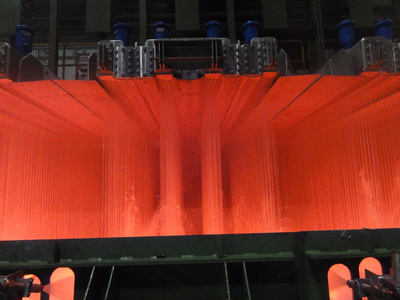 Power Cooling from Primetals Technologies in a hot strip mill
Primetals Technologies, Limited headquartered in London, United Kingdom is a worldwide leading engineering, plant-building and lifecycle services partner for the metals industry. The company offers a complete technology, product and service portfolio that includes integrated electrics, automation and environmental solutions. This covers every step of the iron and steel production chain, extending from the raw materials to the finished product – in addition to the latest rolling solutions for the nonferrous metals sector. Primetals Technologies is a joint venture of Mitsubishi Heavy Industries (MHI) and Siemens. Mitsubishi-Hitachi Metals Machinery (MHMM) - an MHI consolidated group company with equity participation by Hitachi, Ltd. and the IHI Corporation - holds a 51% stake and Siemens a 49% stake in the joint venture. The company employs around 7,000 employees worldwide. Further information is available on the Internet at www.primetals.com.