---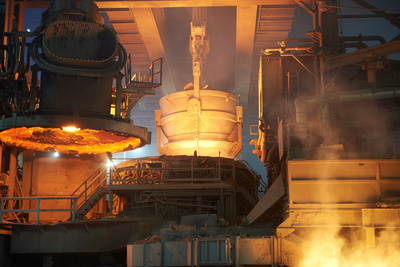 London, July 02, 2015
Primetals Technologies wins order for upgrade of EVRAZ steel mill in Regina, Canada
Upgrade includes secondary metallurgy, Caster, together with Plate and Steckel Mill
API steel grades X70 and X80 will be produced with greater thicknesses
Complete mechanical, electrical and automation solution from liquid steel quality improvement to finished coil
EVRAZ Regina has awarded Primetals Technologies an order to upgrade their Steel Mill in Regina, Saskatchewan, Canada. The project encompasses a complete mechanical, electrical and automation solution from liquid steel quality improvement to finished coil, and includes the installation of a new vacuum degasser as well as the modernization of the existing slab caster, and the plate and Steckel mill. The upgrade will enable EVRAZ Regina to produce API steel grades X70 at 1" (25.4 millimeters) thick and X80 at ¾" (19.1 millimeters) thick for production of pipe for the expanding Canadian market. The new equipment is scheduled for installation by the fourth quarter of 2016.
EVRAZ North America is a wholly owned subsidiary of EVRAZ plc, one of the largest vertically integrated steel and mining businesses in the world. The company is a leading North American producer of engineered steel products for rail, energy and industrial end markets. It has six production sites located in the USA (Portland, Oregon; Pueblo, Colorado) and Canada (Regina, Saskatchewan; Calgary, Camrose and Red Deer, Alberta) and is the number one producer of rails and large diameter pipe in North America.
EVRAZ Regina produces carbon steel slabs, discrete plate and coil. Scrap metal is converted to liquid steel in two electric arc furnaces, cast into slabs and subsequently hot rolled, using Steckel mill technology. The produced plate and coil is converted into energy tubular products for Canada and the United States. The product line includes oil and gas well pipe, casing and tubing, small diameter line pipe and large diameter line pipe with diameters between 26" (660 millimeters) and 80" (2,032 millimeters).
Primetals Technologies will install a new 135-ton-twin-vacuum tank degasser, including the vessels, a dry vacuum pump, valve stands as well as cover, cover car, the suction line, filter and gas cooler. The slab caster´s mold will be upgraded with the DynaWidth hydraulic width adjustment. New Smart Segments will be installed at segment one and in the straightener and horizontal zone of the caster. In addition, the strand guide will be equipped with spray cooling for center and margin cooling of the vast slabs. These measures will increases slab thickness from 8" (203 millimeters) to 10" (254 millimeters). Upgrades to the existing 2Hi roughing mill will include a new drive train to increase rolling force. Upgrades to the 4Hi Steckel mill will include positive roll bending, upgraded uncoiler and coilers together with a new drive train to increase rolling force. The existing laminar cooling system will be replaced with a new direct quench laminar cooling system. The existing upcoiler will be replaced with a new four wrapper roll downcoiler together with a new coil handling system including a sampling station, banding and marking equipment. The basic (level 1) and process (level 2) automation will also be adapted to accommodate the modifications.
Primetals Technologies was awarded the order for all three packages because of its ability to supply a connected through process to produce the required X grades.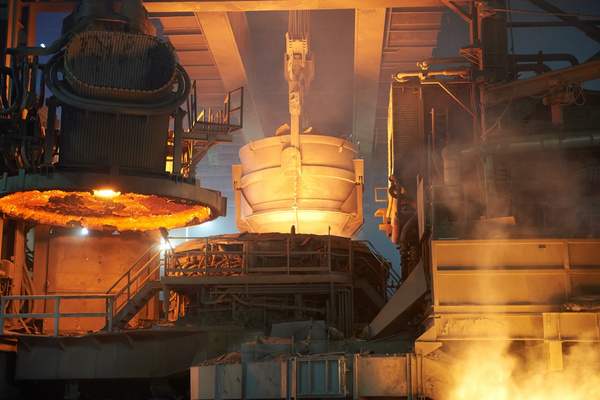 Meltshop of EVRAZ Regina in Regina, Saskatchewan, Canada. Primetals Technologies will upgrade secondary metallurgy, Caster, together with Plate and Steckel Mill. (Photo courtesy of EVRAZ Regina).
Primetals Technologies, Limited headquartered in London, United Kingdom is a worldwide leading engineering, plant-building and lifecycle services partner for the metals industry. The company offers a complete technology, product and service portfolio that includes integrated electrics, automation and environmental solutions. This covers every step of the iron and steel production chain, extending from the raw materials to the finished product – in addition to the latest rolling solutions for the nonferrous metals sector. Primetals Technologies is a joint venture of Mitsubishi Heavy Industries (MHI) and Siemens. Mitsubishi-Hitachi Metals Machinery (MHMM) - an MHI consolidated group company with equity participation by Hitachi, Ltd. and the IHI Corporation - holds a 51% stake and Siemens a 49% stake in the joint venture. The company employs around 9,000 employees worldwide. Further information is available on the Internet at www.primetals.com.