SINTER PLANT — HIGH PERFORMANCE AND ENVIRONMENTALLY FRIENDLY SOLUTIONS
Sintering technology from Primetals Technologies ensures high and stable sinter quality for best blast furnace operation, high flexibility and low operating costs.
Requirements for availability, process quality and productivity of sinter plants are continuously growing, while at the same time a growing number of environmental regulations necessitate extensive investment. As plant designers, our job is to create concepts that offer the best possible solution to meet environmental requirements and economical needs simultaneously. Primetals Technologies, with its integrated process knowledge, is a leading full-line supplier of sinter plant solutions. Our technologies meet all local and market-specific requirements. With our "Pallet Width Extension Technology" and "Selective Waste Gas Recirculation" we are able to reduce the quantity of offgas in sinter plants by up to 50%. This significantly lowers not only environmental pollution but also energy consumption. Maximum emission reduction during sintering is possible – with Meros® plant solutions from Primetals Technologies.
Primetals Technologies has over five decades of experience in sintering technologies and offers state-of-the-art features such as:
Selective waste gas recirculation system
Intensive mixing and granulation system
Sinter machine capacity increase
Cooler design and energy-recovery systems
Ignition furnace with top-burners

Fig.1- ​Intensive mixer

Fig.2- Recirculation hood
Intelligent automation for sinter plants
The sinter control system in combination with the sinter optimization system creates the next level in intelligent sinter automation. The optimal interaction between sophisticated models and the expert system provides extended assistance to plant operators and minimizes the risk of human errors.

Our solutions
Our reliable and most advanced process control system combined with our process optimization system provides major cost savings and process improvements without compromising raw material selection, sinter quality, energy efficiency, and productivity.
The optimized raw mix calculation with precise chemical targets and additional control loops is the basis for producing sinter of the highest quality, while at the same time effectively reducing coke consumption. The optimal position and control of the burn-through point, together with the homogeneous flame front, and optimal raw-mix moisture result in maximum productivity.
The system guarantees shift-independent plant operation where manual interactions are reduced to a minimum. The result is smooth sinter plant operation 24/7, increased equipment lifetime, and reduced production costs.

Advantages
High productivity – Sinter plant is running at peak performance while minimizing consumption of fuel and electrical energy for waste gas fans
Product quality - Chemical and physical properties of the sinter product maintained at the desired levels
Reduced fuel consumption - Precise mixing of charged materials results in homogeneous quantity of return fines
Stable and shift-independent operation - Best-practice sinter plant operation 24 hours a day to ensure efficient production
Fast response to market demands - Quick and flexible reactions to market requirements as well as unexpected situations
Return on investment - The standard period is expected to be less than one year

Five decades of experience in sintering technologies
Primetals Technologies has over five decades of experience in sintering technologies and offers state-of-the-art features such as:
Primetals Technologies offers a wide range of services to help our customers keep up with the global challenges facing the ironmaking industry and especially sinter plants. Beginning with operational consultation and plant assessment we help our customers to maintain high productivity at the lowest possible costs. We also offer operational and preventive maintenance advisory services and provide valuable support to customers during start-up and shut-down periods. To ensure expert process know-how trainings on-the job and off-site are available. Our services portfolio also includes research and analysis services and raw material tests.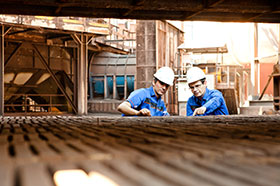 ECO Solutions for sinter plants — Saving resources, creating value
Please follow the corresponding links to learn more about our competences.
Gas Cleaning
Energy Efficiency
By-Product Recycling
ECO Consulting
Fig.1- First MEROS plant at voestalpine Stahl Linz, Austria

Fig.2- Sinter cooler waste heat recovery system

Fig.3- Briquetting plant at Ilva, Italy
Integrated Plants & Solutions for Sinter Plant — Experience that Matters
Please follow the corresponding links to learn more about our competences: