---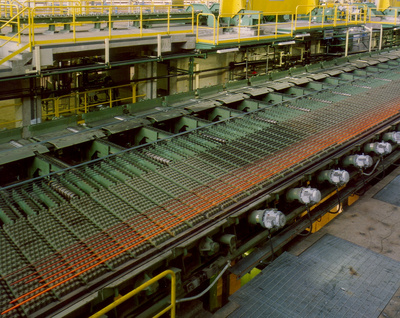 London, June 08, 2017
Charter Steel to enter SBQ straight bar market with Primetals Technologies upgrade
Complete mechatronic package supplied with electrics and automation
Unique stepless-reform and coil transfer technology works with existing compactor
Upgrade allows for rapid response to the varying demands of Charter Steel´s customers
Charter Steel has selected Primetals Technologies to supply the cooling bed, cold shear, abrasive saws, stackers, banders, bar bundling and banding machines necessary to support the steelmaker's new cut-to-length, Special Bar Quality (SBQ) line, part of a previously announced major expansion and upgrade for its steelmaking facilities in Cleveland, Ohio, USA. Charter Steel intends to leverage its advanced carbon and alloy steelmaking capabilities in Cleveland to introduce an engineered bar product to new and existing customers in sizes ranging from 19 to 83 mm (.75 to 3.25 inches) in diameter and bar lengths from 3.7 to 15.3 meters (12 to 50 feet). The upgrade allows for rapid response to the varying demands of Charter Steel´s customers. The new straight-bar and upgraded coil capability will be operational in the second half of 2018.
For the upgrading of the company's existing coiled rod and bar line in Cleveland, Primetals Technologies will supply new troughs, shears, water boxes and switches along with Primetals Technologies' unique stepless-reform and coil transfer technology for efficiency gains. The coil handling equipment will employ both vertical and horizontal pallet systems to improve coil package. The contract also includes a complete mechatronic package with electrics and automation for the new equipment.
Primetals Technologies has had a strong and successful working partnership with Charter Steel for many years and was selected to supply equipment that supported design criteria to enhance production flexibility, allowing Charter Steel to respond rapidly to the varying demands of its customers.
Charter Steel, a division of Charter Manufacturing Company, Inc., produces highly engineered steels for sophisticated applications utilizing aerospace, bearing, cold heading, free-machining, specialty spring and high carbon quality steels. It operates a steelmaking facility in Saukville, Wisconsin, USA in addition to the Cleveland, Ohio facility.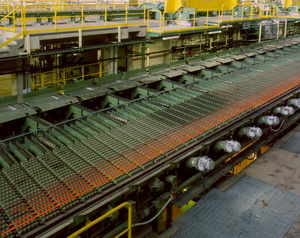 Straight bar on cooling bed. Primetals Technologies will supply upgrade equipment for Charter Steel Cleveland to enter SBQ straight bar market.
Primetals Technologies, Limited headquartered in London, United Kingdom is a worldwide leading engineering, plant-building and lifecycle services partner for the metals industry. The company offers a complete technology, product and service portfolio that includes integrated electrics, automation and environmental solutions. This covers every step of the iron and steel production chain, extending from the raw materials to the finished product – in addition to the latest rolling solutions for the nonferrous metals sector. Primetals Technologies is a joint venture of Mitsubishi Heavy Industries (MHI) and Siemens. Mitsubishi-Hitachi Metals Machinery (MHMM) - an MHI consolidated group company with equity participation by Hitachi, Ltd. and the IHI Corporation - holds a 51% stake and Siemens a 49% stake in the joint venture. The company employs around 7,000 employees.