---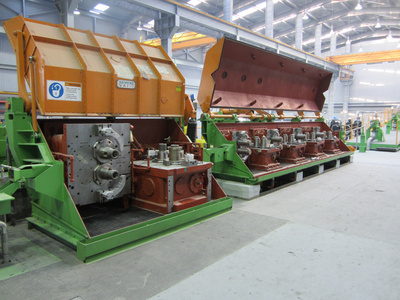 London, April 07, 2016
Primetals Technologies copper rod mill sold to Southwire for end user Ningbo in China
Demand leads to order of second copper rod mill
Will roll electrolytic tough pitch (ETP) copper
Fall 2017 startup expected
Ordering a second mill identical to one supplied to the Southwire Company, LLC of Carrollton, Georgia, USA by Primetals Technologies in 2010, Ningbo Jintian Copper (Group) Co. Ltd. has signed a contract with Southwire for an SCR 3000 copper rod mill. The new mill will operate in Ningbo, Zhejiang Province, China. Start up is expected in the fall of 2017.
Primetals Technologies is responsible for the engineering, manufacturing and commissioning of the rolling mill and coiler equipment for a Southwire SCR 3000 rolling mill to produce electrolytic tough pitch (ETP) copper for the building construction wire and cable market. The contract scope includes ten independently driven roll stands, which will run 25 metric tons per hour, annually producing 160,000 metric tons of rods that are 8 mm, 9.5 mm, 12.7 mm, 16 mm and 18 mm in diameter from 3800 mm2 cast bar. Coil weights will range from one to four tons. The contract also includes a 20-inch entry shear and table, roughing mill with guides and hydraulic roll mounting, finishing mill with motors, guides and improved input shaft seal design, pickling line, rollerized turndown, pinch roll, orbital/laid coiler, a conveyor system and lube oil system.
Founded in 1986 as a copper bar manufacturer, Ningbo Jintian Copper (Group) Co. is now the largest copper processing manufacturer in China and an industrial conglomerate among the top 500 companies in China. Southwire has worked together with Primetals Technologies for more than 50 years. During that time, the company built more than 100 non-ferrous mills for Southwire customers, in addition to completing nearly 30 upgrades.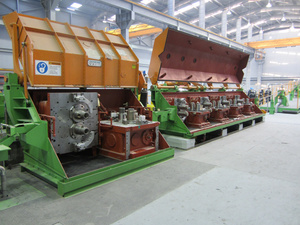 Copper rod mill processing line supplied by Primetals Technologies via Southwire Company, LLC.
Primetals Technologies, Limited, headquartered in London, United Kingdom, is a worldwide leading engineering, plant-building and lifecycle partner for the metals industry. The company offers a complete technology, product and service portfolio that includes the integrated electrics, automation and environmental solutions. This covers every step of the iron and steel production chain that extends from the raw materials to the finished product – in addition to the latest rolling solutions for the nonferrous metals sector. Primetals Technologies is a joint venture of Mitsubishi Heavy Industries (MHI) and Siemens. Mitsubishi-Hitachi Metals Machinery (MHMM) - an MHI consolidated group company with equity participation by Hitachi, Ltd. and IHI Corporation - holds a 51% stake and Siemens a 49% stake in the company. The company employs around 9,000 employees worldwide. Further information is available on the Internet at www.primetals.com.